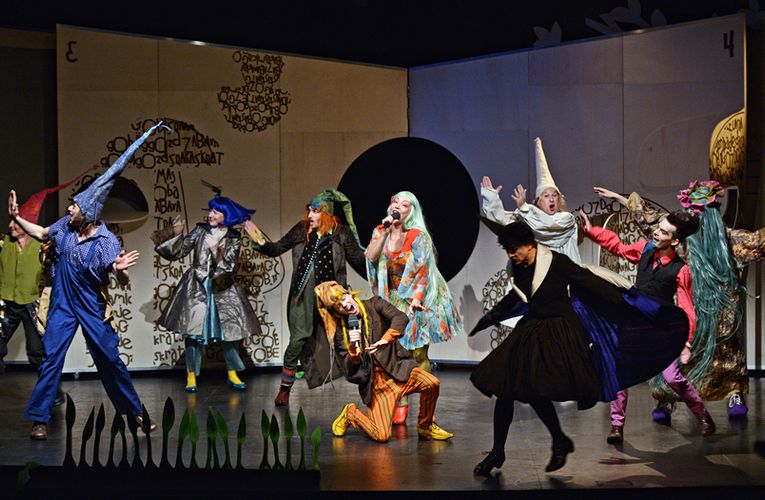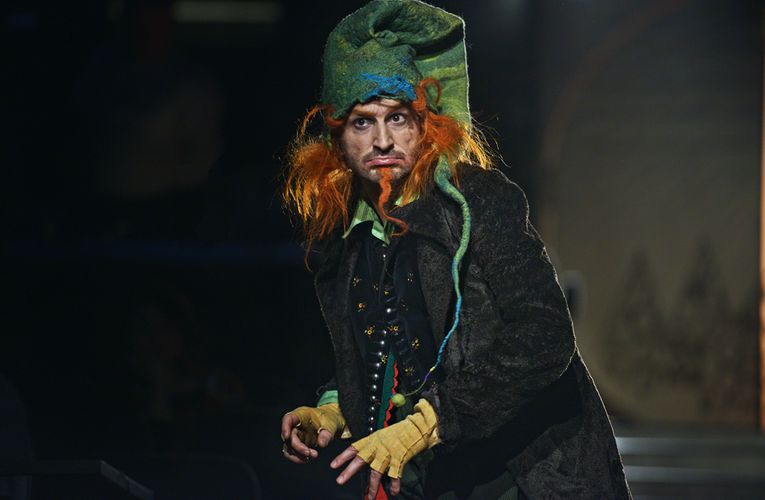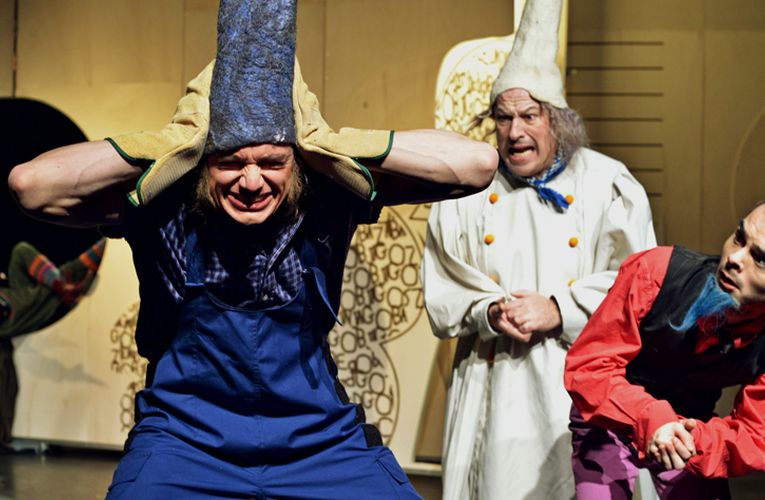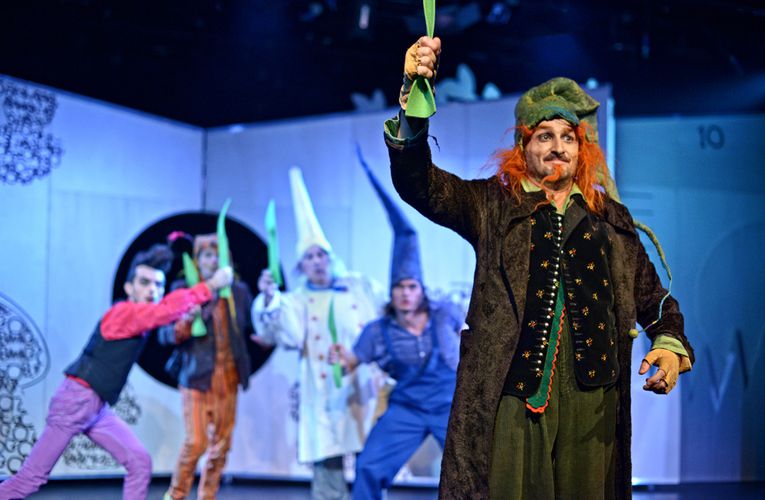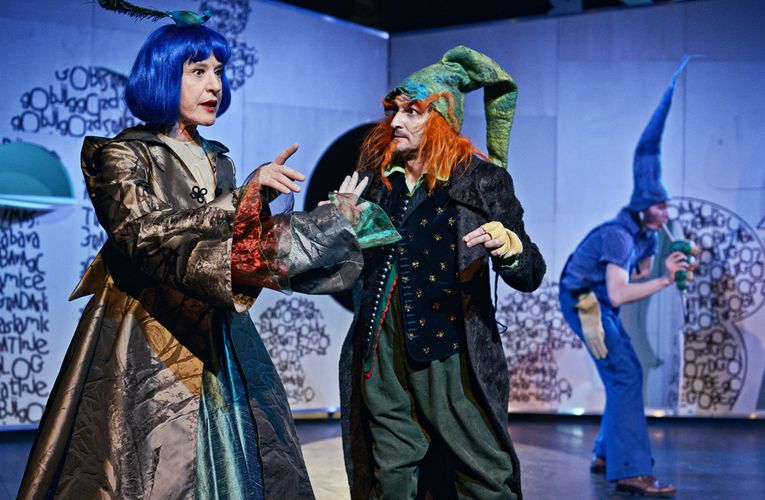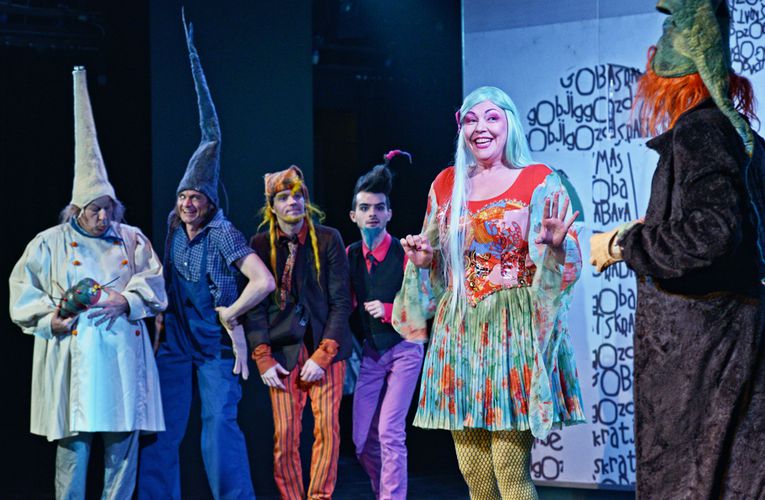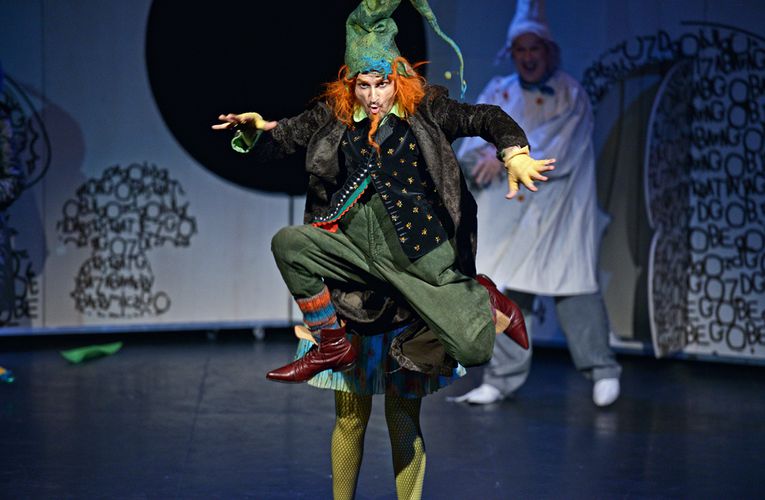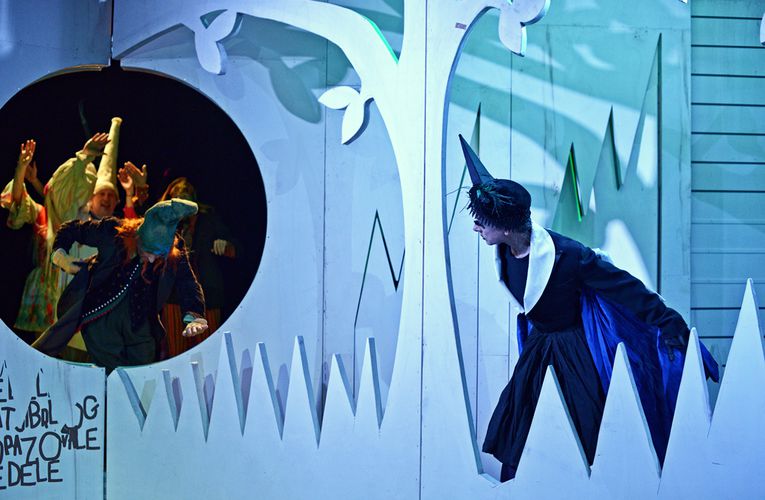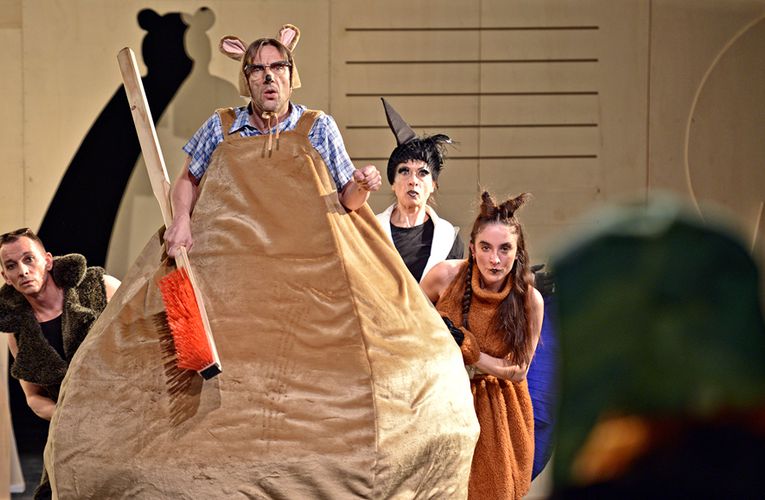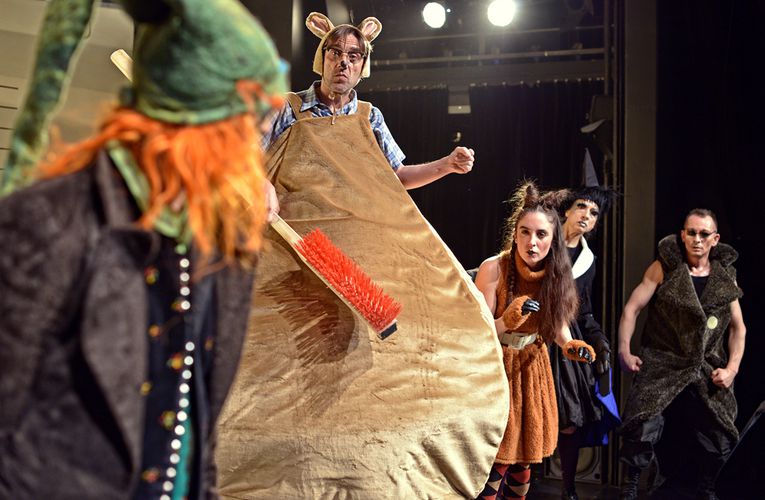 Kuzma the Gremlin Gets an Award
Directed by: Matjaž Farič
4 +
Première: 28. 3. 2013
Recommended age: 4 +
Cast
Kuzma the forest gremlin

Daniel Petković

Hairdressing elf

Kitchen sprite

Radio elf

Printing imp

Builder elf

Merry elf

Magpie

Squirrel, Youngest elf

Dušan Teropšič

Hedgehog, Elf

Bear

Marinka Štern

Narrator
Credits
Choreography: Matjaž Farič
Dramaturgy: Staša Bračič
Costume design: Barbara Stupica
Set design: Irena Pivka
Music: Sergej Randjelović
Language consultant: Mateja Dermelj
Lighting design: Matjaž Brišar
Sound design: Marijan Sajovic
Make-up artist: Tina Prpar
Stage manager: Urša Červ / Gašper Tesner
Description
Every month, the sprites meet, on Fridays, and brag about their elfin achievements. In September, Kuzma the forest gremlin, the hairdressing elf, the radio elf, the kitchen sprite, the builder elf and the printing imp met. The rest were absent due to a nasty epidemic of elfin measles. The meeting was secretly observed by a magpie and she heard what impishness Kuzma was up to. It soon became clear that most of the trouble in forest were his doing. The magpie immediately told what she'd heard to the squirrel, the hedgehog and the bear. The next morning, they gave Kuzma the taste of his own medicine.
In the media
The poetry of Svetlana Makarovič, talking about little Slovenian souls, came to joyous life in her fairy tale about the world of Kuzma the Gremlin on the stage of the Mladinsko, in a dynamic stage animation by the director Matjaž Farič. Svetlana Makarovič, with her rich poetic language, vibrantly colours the images and characters of the grown-ups, while wittily wrapping them into a fairy tale mist, and challenges the thinking world of children, and potentially enlightens an adult who recognises her or himself in the fairy tale mirror thus held out. […] Kuzma the Gremlin Gets an Award is a picturesque and diverse fairy tale performance, which director Matjaž Farič has enriched with his characteristic spatial (choreographic) dynamics. The result is an innovative performance which vivaciously illustrates the never-forgotten fairy tale world and which, in its lively drama form, enthrals the youngest and the oldest spectators alike.
This showcase of the universal heritage of mischief doesn't need the vibrations of the digital, sound-and-light toolbox, as it narrates the staged world of somewhat restrained dynamics with the language of gestures, movement, glances and words. A warm and witty performance of tiny gremlinish manipulations and mischievous happiness enthrals in all aspects, in the actors' sketches of the characters, revealed by the clever costumes, and it enchants with the communication between the enthralled audience and the actors consumed by the illusion.
(Magda Tušar, Radio Slovenija, March 29, 2013)
Awards
Župančič award 2013 to Ivan Peternelj, among others also for his role of Kuzma the gremlin