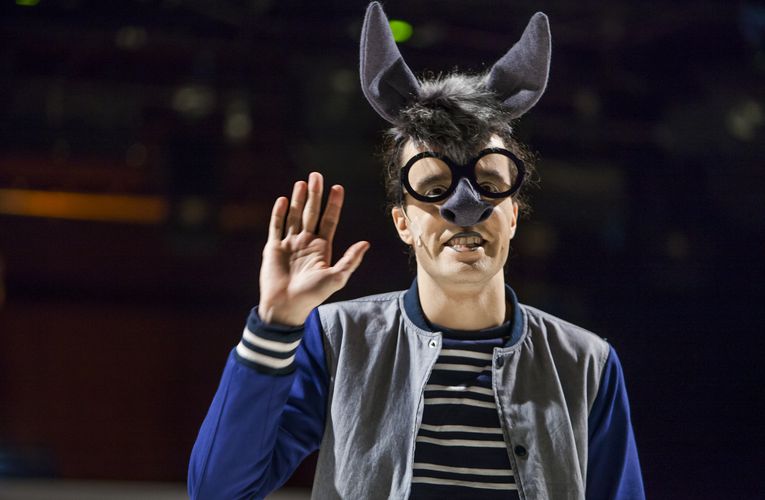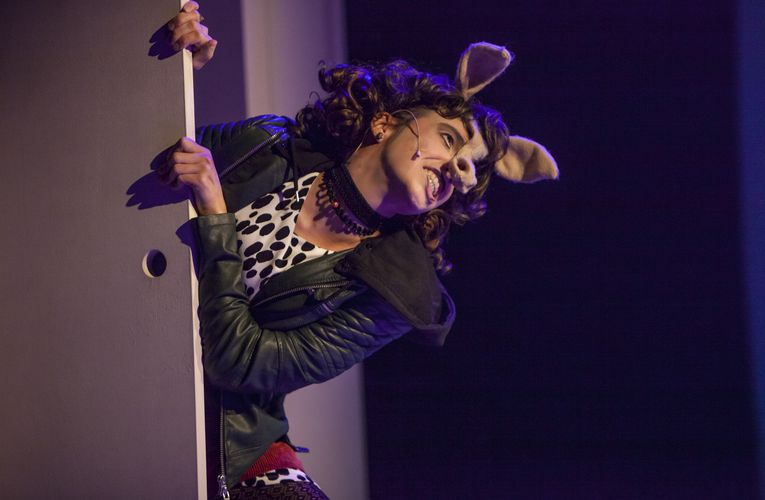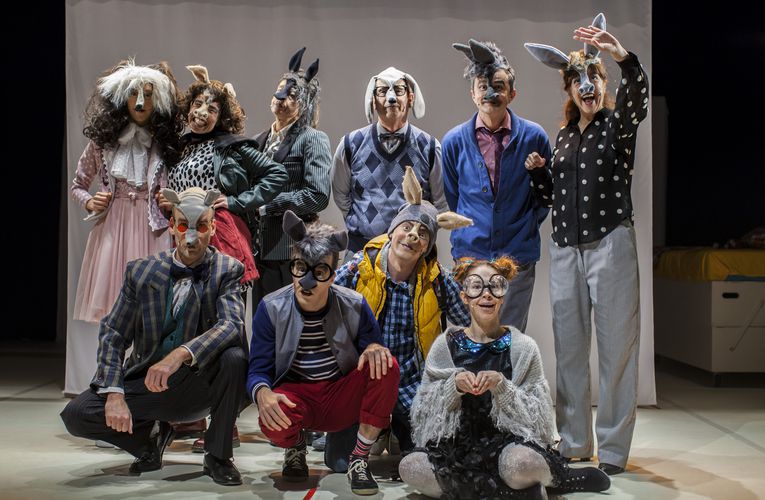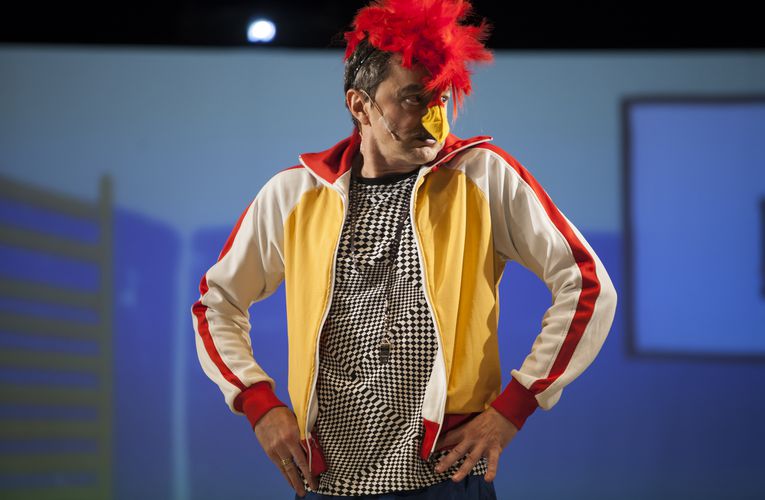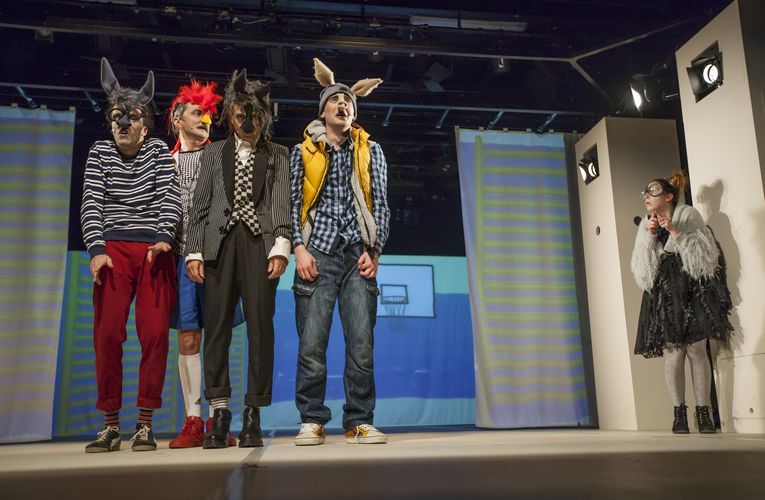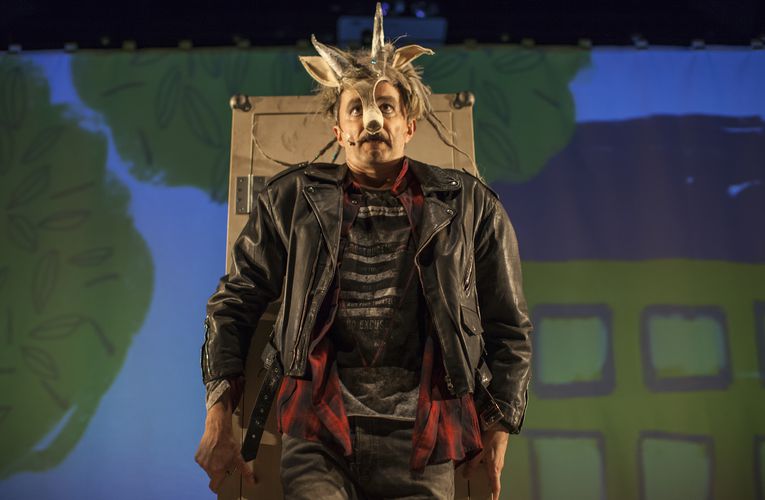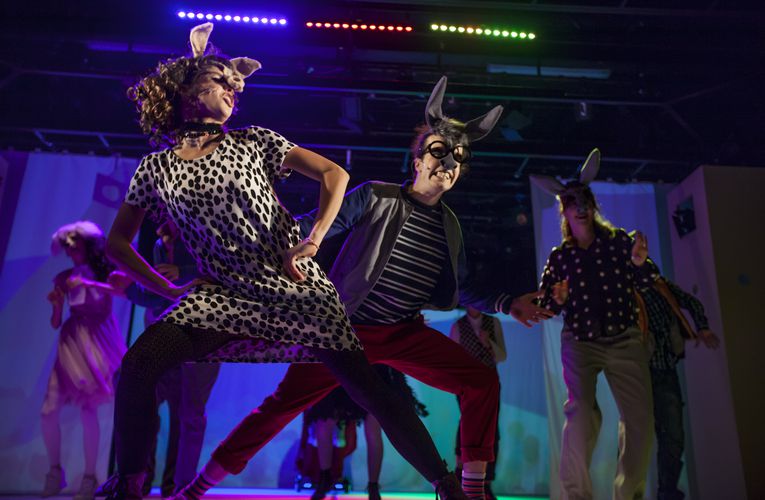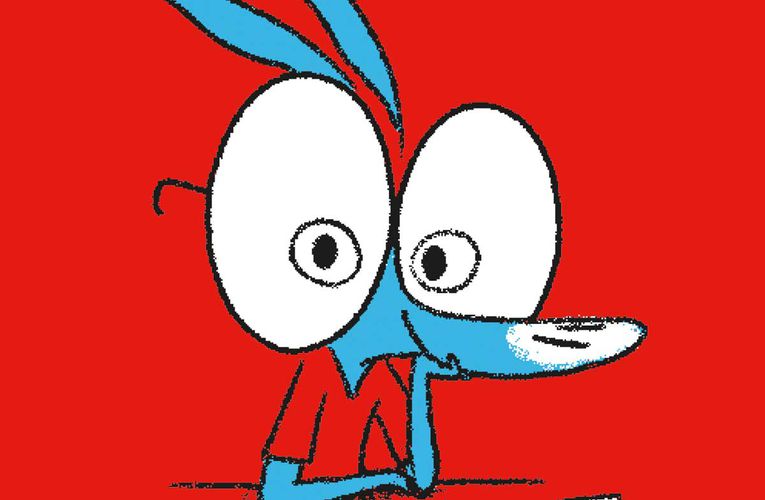 Ariol: Up to the Ears in Love
Directed by: Matjaž Pograjc
Première: 19. 1. 2019
Recommended age: 6 +
Cast
Ariol – a blue donkey with big glasses

Mule – Ariol's mother

Avoine – Ariol's father, Mr. Ribera – Ariol's gym teacher, a rooster; Ariol's classmate, a billy goat

Jurica Marčeč / Daša Doberšek

Ramono – Ariol's best friend, a pig

Klara Kastelec

Petula – Ariol's love interest, a cow

Nika Ivančić

Bizbille – Ariol's classmate who is in love with him, a fly

Ariol's classmate, a horse

Ariol's classmate, a dog with a long mane

Mr. Blunt – Ariol's class teacher, a dog; Petula's mother, a cow

Thunder horse; Mr. Blitz – photographer, a mouse
Credits
Assistant director: Katarina Krapež
Choreography: Branko Potočan
Music: Silence (Boris Benko, Primož Hladnik)
Set design: Sandi Mikluž, Denis Goja
Costume design: Neli Štrukelj
Video design: Luka Dekleva
Illustrations: Meta Wraber
Consultant: Brane Vižintin
Language consultant: Mateja Dermelj
Lighting design: Matjaž Brišar
Sound design: Marijan Sajovic
Make-up artist: Tina Prpar
Animal mask design: Zala Kalan
Stage manager: Gašper Tesner
Description
Ariol is head over heels in love with his classmate Petula, a lovely little cow with curls, and he keeps dreaming about her. Other than that, he loves spending time with his best friend Ramono. They are often up to some mischief, so their form teacher Mr. Blunt and gym teacher De Muscle sometimes get angry with them. Ramono is not doing that great at school, and Ariol occasionally gets stuck. Fortunately, Bizzbille is always there to help them – particularly to Ariol, because she's in love with him. Although his school work occasionally gives him problems, Ariol is a very intelligent donkey. His mother lets him know that, too, and she always stands by him and encourages him when he feels uncertain.
Awards
zlata pika award for best performance at the Pikin festival (2019)
zlata pika award for Klara Kastelec for best actress at the Pikin festival (2019)
ZLATA PALIČICA
The performance Ariol: Up to the Ears in Love was selected in the catalogue of quality stagings on the platform Zlata paličica.