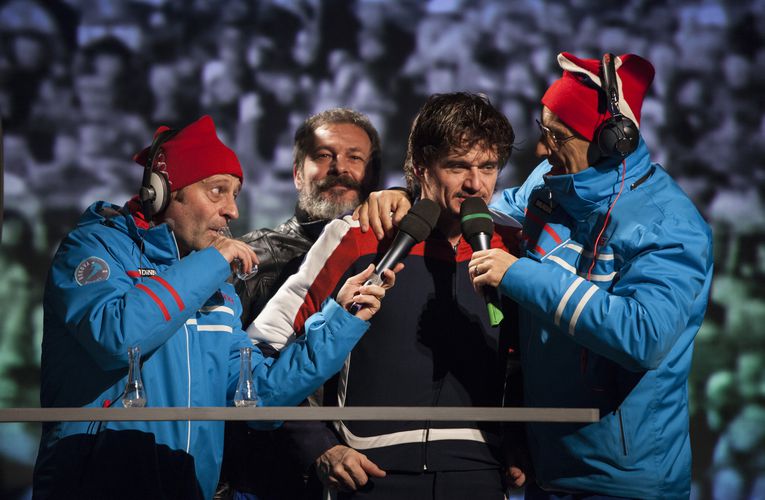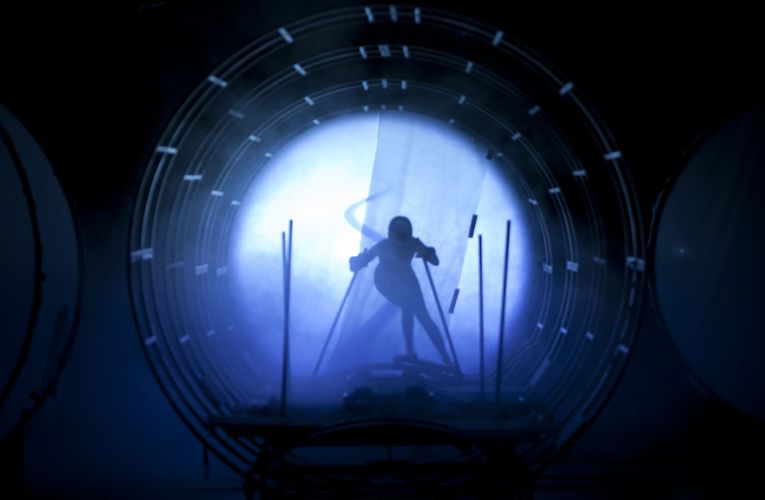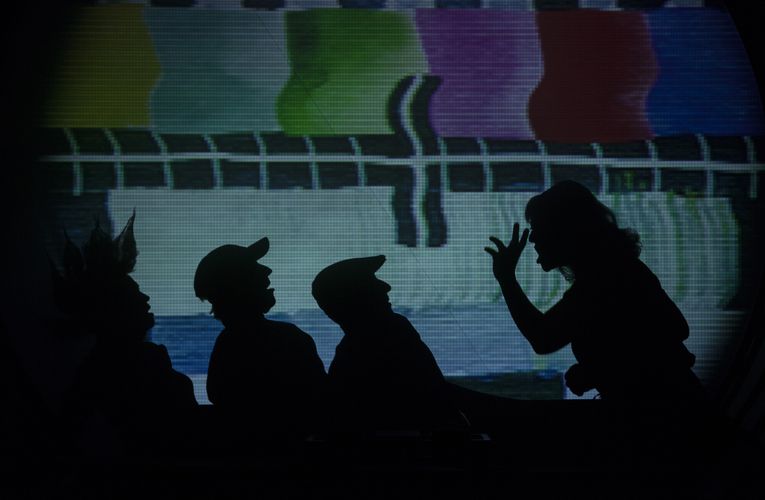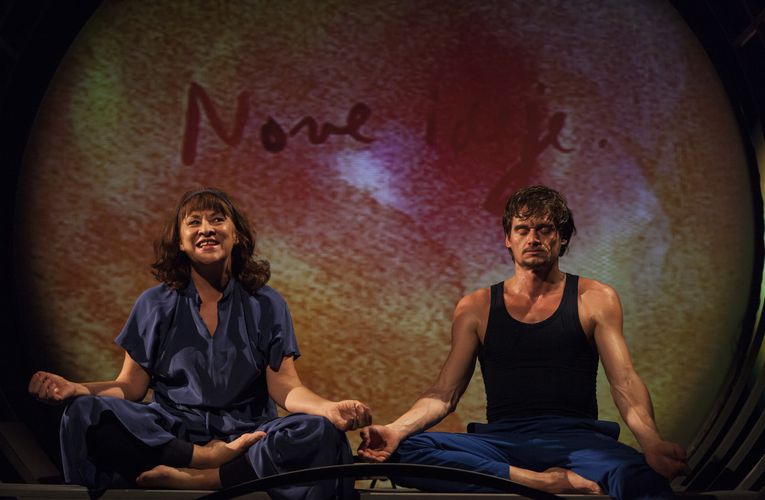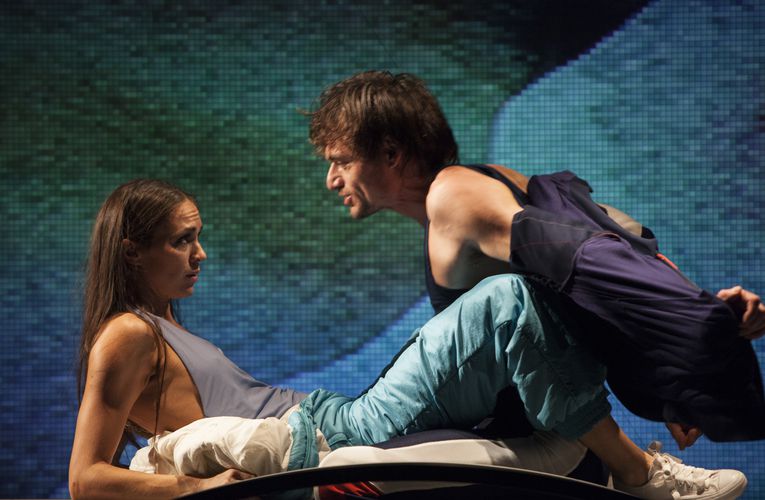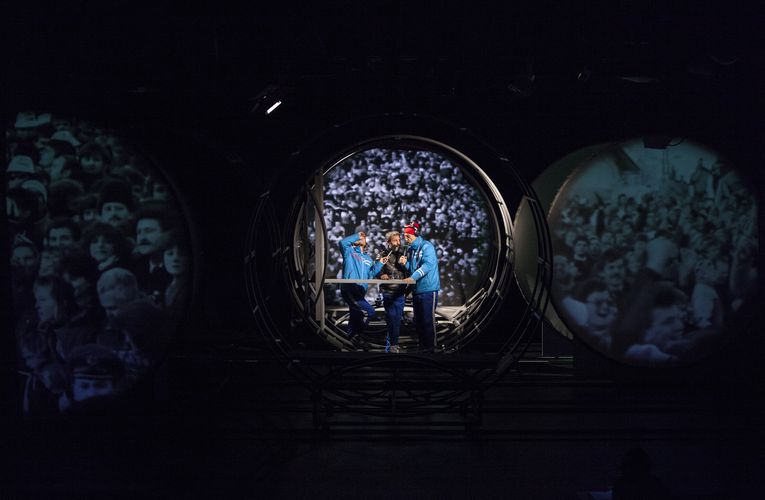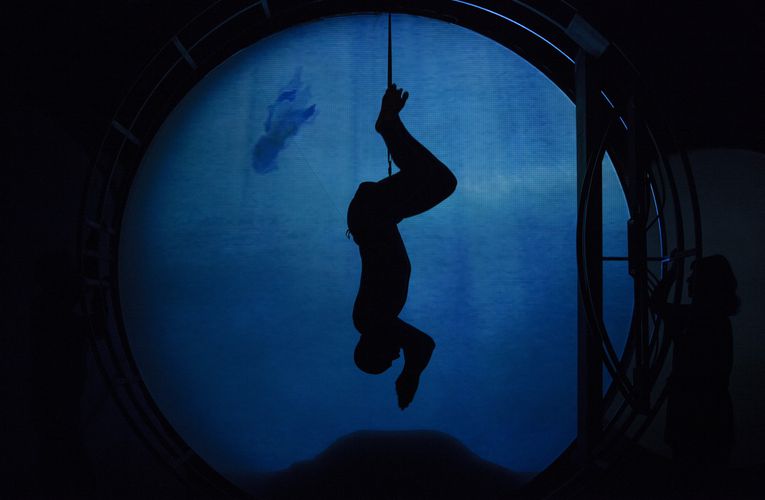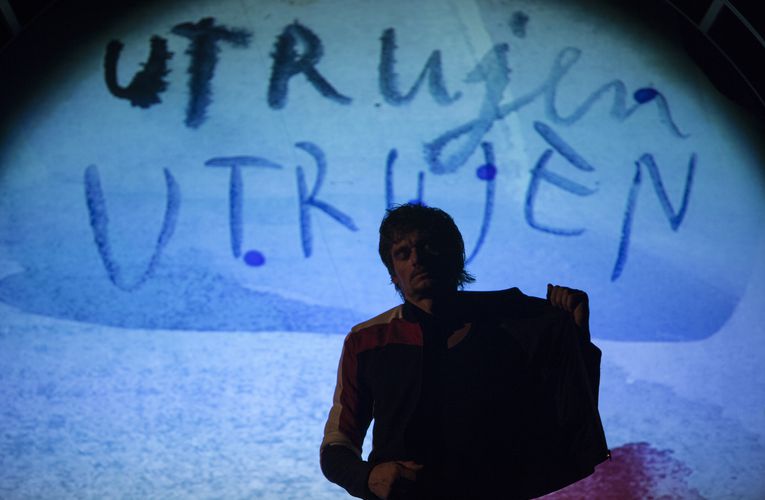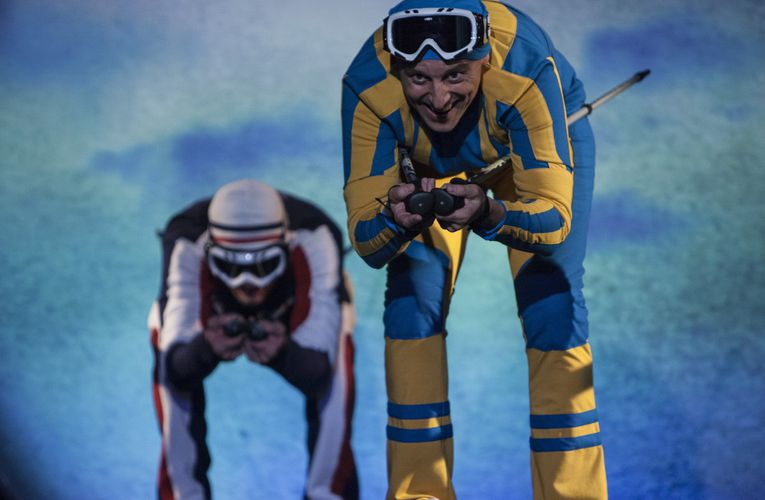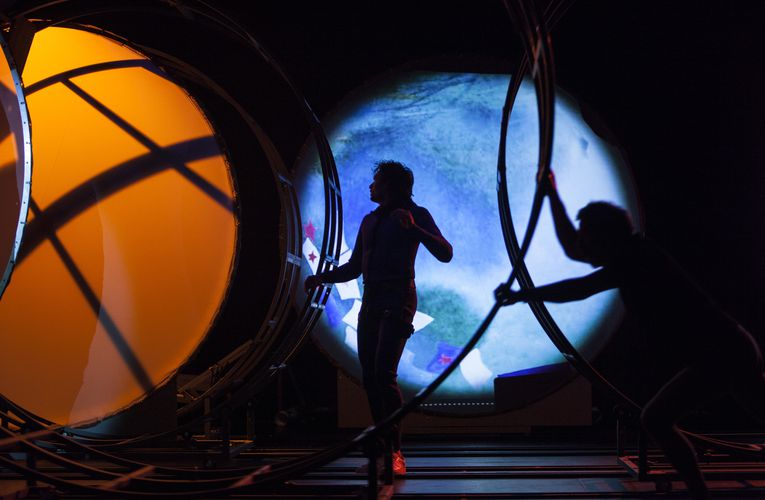 Rok's Depth
Directed by: Matjaž Pograjc
Première: 9. 10. 2015
Credits
Music: Silence (Boris Benko, Primož Hladnik)
Set design: Tomaž Štrucl, Sandi Mikluž (Estrihi in ometi)
Costume design: Mateja Benedetti
Choreography: Branko Potočan
Illustrations: Meta Wraber
Animation: Gregor Balog
Video compositing, mapping and programming: Luka Dekleva
Language consultant: Mateja Dermelj
Lighting design: David Cvelbar
Sound design: Silvo Zupančič
Ski training: Miha Lapanja
Diving training: H2O Team
Video: Dušan Ojdanič
Author of introductory video: Dare Kragelj
Make-up artist: Barbara Pavlin
Production assistant: Lucija Seljak
Stage manager: Urša Červ / Liam Hlede
Rok Petrovič is the author of the poems used in the performance.
Description
Rok Petrovič was – and continues to be – the only serial winner in the history of Slovenian male alpine skiing. In the 1985/86 season, at the height of the skiing euphoria, he won five slalom races and thus obtained the season's highest ranking, leaving behind both the legendary Swede Ingemar Stenmark and the doyen of Slovenian skiing Bojan Križaj. Because he was never a team player and because he stood out fiercely from the ideological-marketing PR levelling, because he played and skied and lived and thought absolutely independently and because he saw sports as personal growth, not just a competition in which one wore national colours (on the edge of political activity), he stuck out so much that he was often completely unnoticeable. With a reason. He used to ski the way skiing is done now. Only he did it with antiquated technology. He was searching for an ideal line and discovered sidecut extreme. He moved as gently as his thoughts were sharp. He would win because he wasn't afraid to lose. Because he climbed above the homestead-destructive concept. Without protection. Solo. While others were speaking, Rok kept silent. His silence was expressive. He read classical German philosophy and found himself in Buddhist scriptures. While others were running, he swam. Swam away. First, while still extremely young, into science. Into physics and metaphysics, which he blended so masterfully that he almost made sense of alchemy. Later, into the depths of the sea. Into another, yet certainly not new, dimension. Into the peace of a low heartbeat and the cleansing of expectation; dissecting the ego. Where nostalgia is merely a side effect of the dying of excess weight. For a while he hunted. Then he let himself get caught. And stayed down there. At home.
In the media
[I]t is heartening that theperformance brought a mass of non-theatre audience into the theatre. And quality theatre at that. Pograjc's physical theatre is [...] as made for performing such topics. The power of the performance lies, more so than in the text and its interpretation which cannot eschew a melodramatic tinge, in the aestheticised stage movement – simulation of skiing, yoga, high bar gymnastics and particularly the perfected staging of movement under water, hanging from a climbing rope. This is not just a pose and a spectacle, but a philosophy common to physical theatre and Petrovič himself, a philosophy of physical going beyond self, search for perfection in movement to achieve a certain effect. The performance is dynamised also across multi-purpose rotating and movable circular constructions that frame the scenes or gain the associative role of the machinery of the industry of spectacle etc. The steel construction is softened by the canvass stretched over it and used to screen the animated illustrations by Meta Wraber, which to the spectator are the main poetic channel to dive into Rok's depth.
(Pia Brezavšček, Dnevnik, Oct. 23, 2015)
The life of Rok Petrovič, who at the age of nineteen won the first FIS crystal globe in Yugoslavia and to this day remains the only serial winner in the history of the Slovenian male alpine skiing, is shown through a series of simple, narratively organised phases. It particularly emphasises his independence – a consequence of his personal philosophy – his striving to perfection, spiritual research, work following his own rules, experimenting with skiing techniques and modes of training – which in the machinery of the competitive greed for victory and evaluation of results alone put him in permanent conflict with his environment, into the feeling of misunderstanding and alienation. This private side of a young man who is not satisfied with the image of the system and is searching for something more in life, adds to Petrovič's public image the understanding of his immense success, quick retreat and an early death. [...]
Pograjc tackles the available material with a clever research overlap of different approaches that merge in a complex stage structure. He builds documentary footage of skiing broadcasts into the theatre story, as well as poetic scenes of Petrovič's diving; live performance is complemented by dynamic video images, animation and even a caricature scene of a shadow cartoon. The inner world and metaphysical endeavours are, in the scenes of yielding to sea depths, illustrated Petrovič's poetry and music of the group Silence, contrastingly complemented with the realistic acting and cleverly conceived and demanding physical choreography (Branko Potočan) in which Primož Bezjak as Rok Petrovič is unsurpassable.
(Nika Arhar, Delo, Oct. 20, 2015)
Awards
Župančič Award to Željko Hrs, among others also for his role in Rok's Depth
THANKS
For the kind help and access to the material about Rok Petrovič we thank Ms Zdenka Steiner. Thanks also to Sergej Petrović, Extremo shop, Alenka Štuhec (Faculty of Sport), Staša Elina Verbič and Nagisa Moritoki.