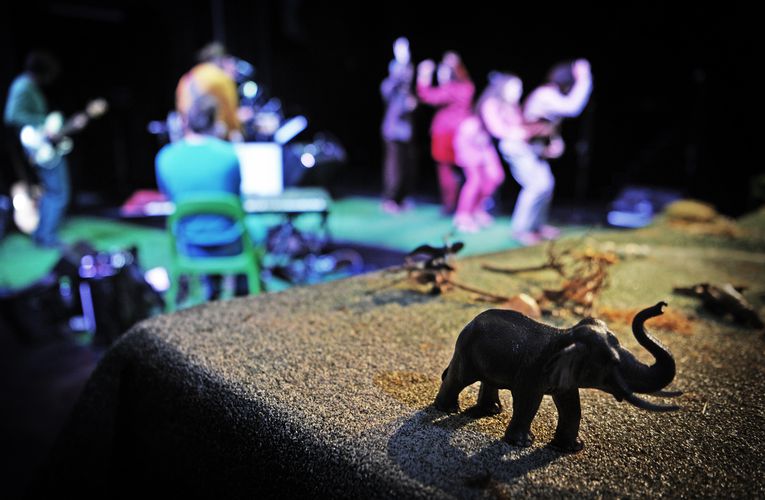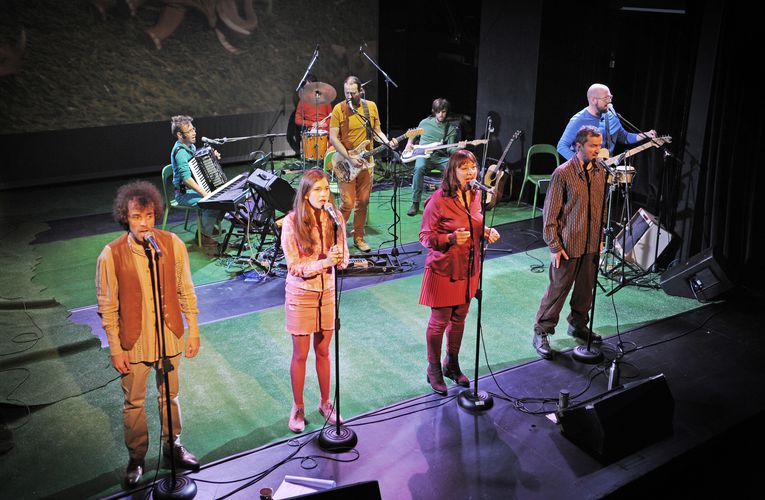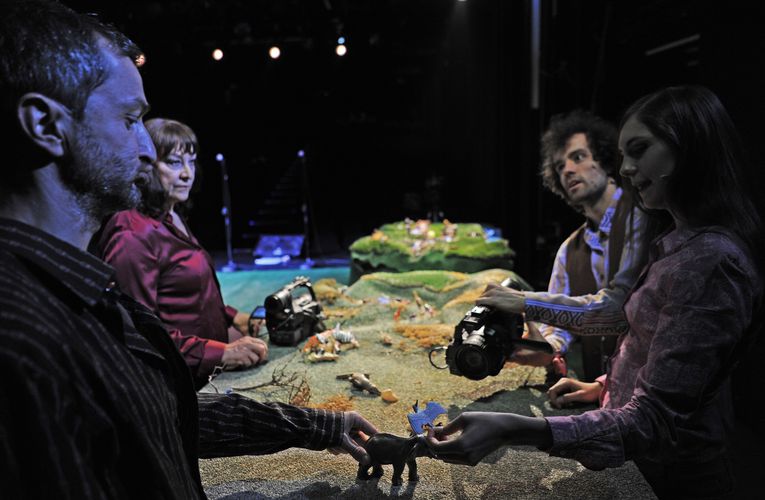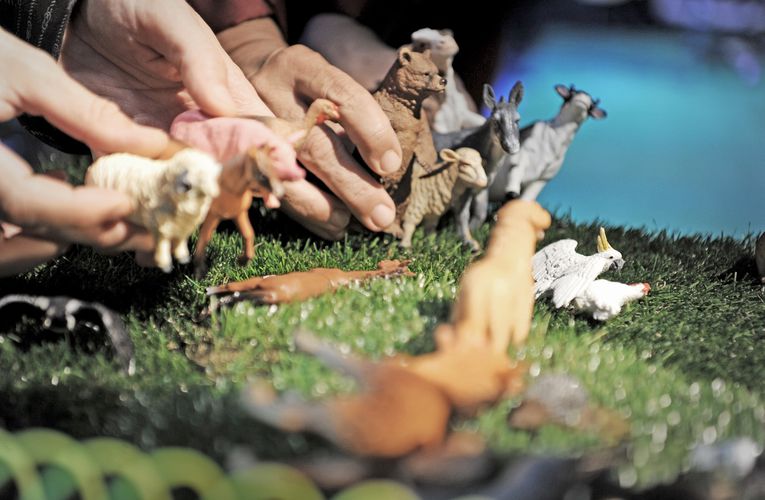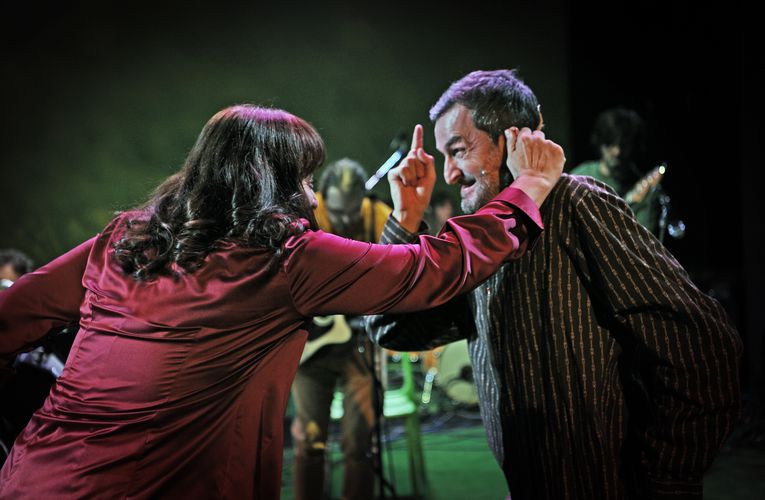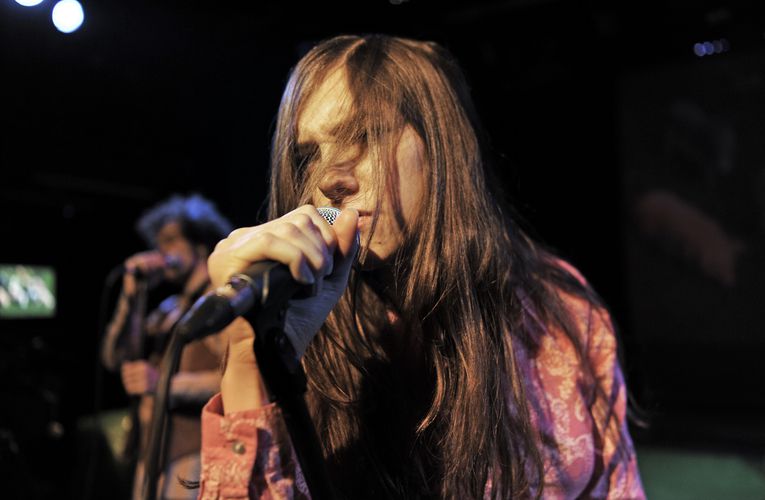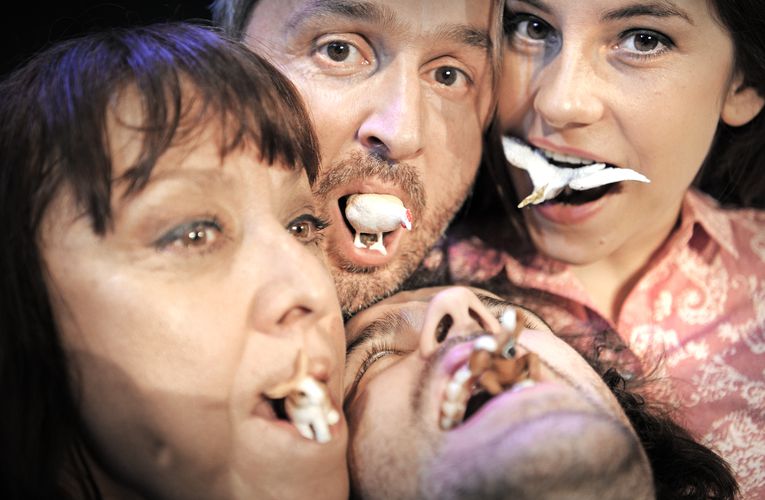 Dog and Pony Show
Directed by: Jure Novak
Co-production: Mladinsko Theatre and Kino Šiška Centre for Urban Culture
Première: 24. 9. 2017 (Mladinsko), 8. 2. 2017 (Kino Šiška Centre for Urban Culture)
Recommended age: 7 +
Cast
Uroš Buh

Guitar, vocals

Jošt Drašler

Double bass, bass guitar

Vid Drašler

Drums, percussion instruments

Rok Šinkovec

Keyboards, accordion, vocals

Matjaž Ugovšek

Guitar, vocals

Nace Kogej

Saxophone
Credits
Music arrangements: Uroš Buh
Video animation and set design: Leon Vidmar
Sound design: Jure Vlahovič
Lighting design: David Cvelbar
Costume design: Slavica Janošević
Choreography: Ivan Peternelj
Language consultant: Mateja Dermelj
Stage manager: Gašper Tesner
Description
Domesticated animals and the animals from the southern wild meet at the wire fence. They monitor each other suspiciously. Where did the hen disappear? Will the cockatoo save the day? Does the elephant need a medical intervention? What exactly do snails do in their free time?
Many generations of Slovenian parents and children have Svetlana Makarovič's poems ringing in their ears and inciting their creativity. Makarovič adopts difference, otherness and foreignness as her central themes; themes which in our time are unfortunately once again becoming increasingly important. Therefore, we have revived them and brought them together in Dog and Pony Show, a concert performance of a selection of Svetlana's poems for children. Musician Uroš Buh has provided contemporary arrangements for them, and the excellent vocalists from the Mladinsko Theatre have lent their voices. They have woven the poems with a tale that introduces children to the burning topics of the world surrounding us and encourage thoughts about the questions of connection and accepting difference.
In the media
At the premiere, I found myself surrounded by excited children, and all of us spent about an hour intensely following the action on stage. The (this time four-member) cast of the Mladinsko and six guest musicians created an inventive (also technically inventive) music and dance performance. […A]ll this with the help of poems set to music that wander through an entire spectrum of music styles (from blues and polka to Turkish beat and rock), and also with the help of dance. In short, perfect. Hats off to the author, actors, musicians and, of course, the director Jure Novak.
(MG, Kralji ulice, November 2017)
Songs that Uroš Buh has arranged to the lyrics by Svetlana Makarović constantly move within the realm of jazz fusion, but throughout the performance effortlessly, subtly introduce a number of music forms and styles. The music in this sense includes many genres (and through them, cultures from which it originates), and at the same time with the thoughtful combinations shows that every culture is an unstable, temporary constellation, and that accepting foreign influence is an important part of enrichment and development of all cultures, as this brings changes and new perspectives without which stagnation could occur.
Although primarily aimed at younger audience, this theatre concert that saw its co-production premiere at the Bobri Festival in February is a wholesome theatre event that sets no age limits. The staging of Svetlana Makarovič's animal poems opens dimensions of meanings one would expect to be exhausted by now due to the poems' wide recognition – they're possible to read on several levels that intertwine humorous and (socially) critical aspects of the contemporary situation in the world. […] This level of the presentation of attitudes towards foreigners and how we receive them clearly encourages a more tolerant and open society; all while evoking not so soothing, yet still entertaining allusions in those spectators that are a little older – the critical reflection of contemporary xenophobia with an economical usage of all elements also gets engaged on the meta-level of the reference frame. With its minute references to the not so distant, still topical hen-house present, which apparently never goes old in Svetlana Makarovič's poems, Dog and Pony Show almost enters the level of political satire.
Awards
Bršljanov venec Award to Ivan Peternelj, also for his choreography in Dog and Pony Show
Sever Award to Blaž Šef, also for his role in Dog and Pony Show