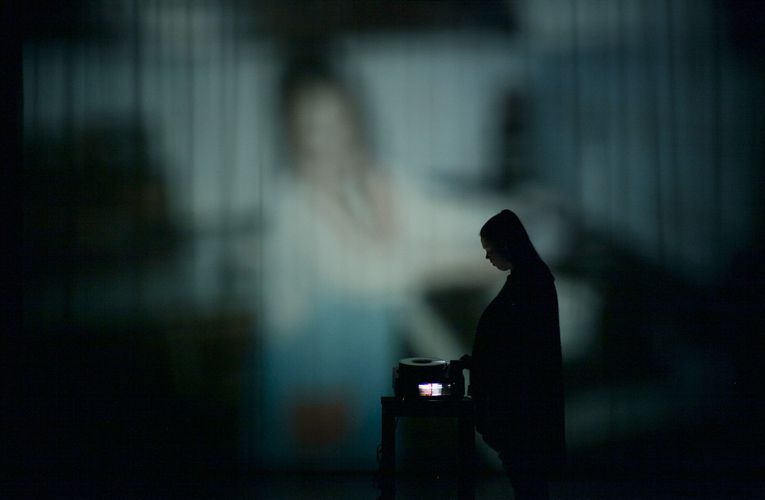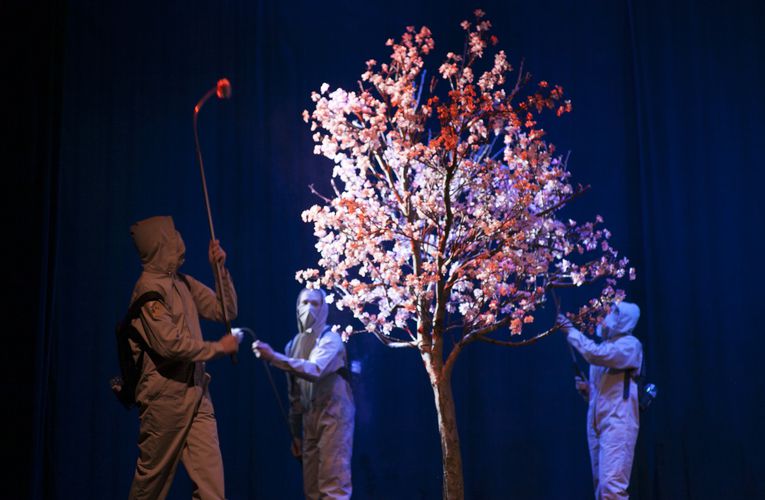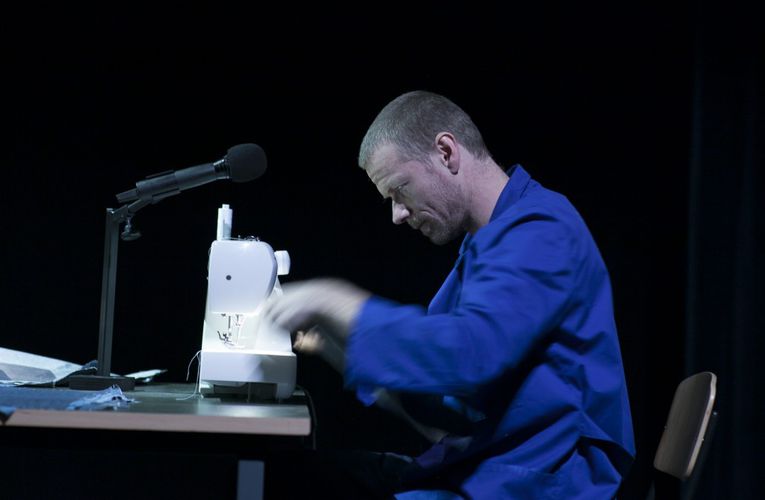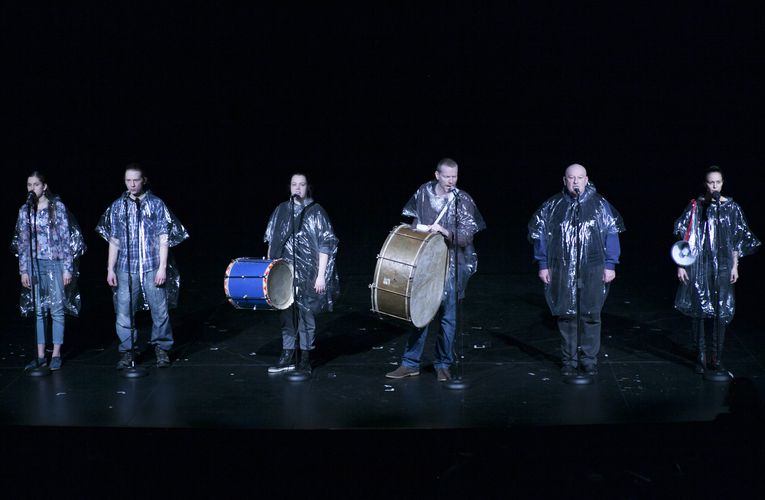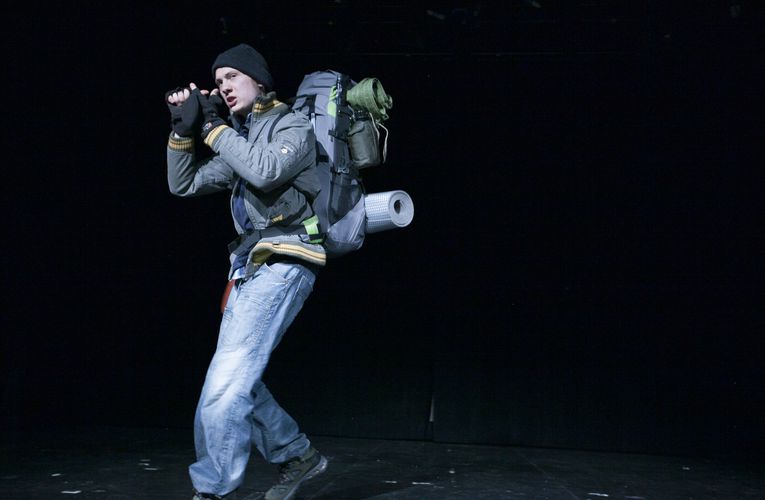 The Man Who Watched the World
Directed by: Žiga Divjak
Première: 22. 1. 2017
Credits
Dramaturgy: Katarina Morano
Set design: Tina Mohorović
Costume design: Tina Pavlović
Music: Beno Gec
Language consultant: Mateja Dermelj
Lighting design: David Orešič
Sound design: Beno Gec, Marijan Sajovic
Video and slide projection design: Domen Martinčič
Stage manager: Gašper Tesner
Description
Created by the artistic team, The Man Who Watched the World stems out of a feeling that the end of the world is not merely the apocalypse awaiting somewhere over there to unfold, but it is rather omni-present in the microcosms of the people, families, individuals deprived of their voices and position in the world; an apocalypse that moves so fast that it is already at rest. It stems out of a feeling that you are riding on a long long road in a car that is running out of gas; that the car is riding, the gas is gone, the goal is gone, there are no rescue stations. The car goes on and on. We just have to be a little more patient and it will get better. A bit more, a bit more, and it will get better. Is the apocalypse really a matter of the future?
"When a man is dying slowly and has been ill before for a long time, the most horrible thing is that it gets worse just a little bit every day … so little that you don't even notice. Perhaps you even think that it's getting better. Then you remember: a week ago he could get out of bed by himself, now he can only turn. Then you forget about it and in a while you noticed, horrified, that he can't even turn anymore, that he lifts his head with difficulty. Then for the first time you realise that it's inevitable. With the end of the world it's the same." (Jakov Druskin)
In the media
The performance speaks about the state of the world with a well calculated intimacy, and at times with a frank naïveté; it is more interested in confession than in spectacle, but succeeds in creating a good number of visually impactful scenes, for example the one with the tree being pollinated by people wearing space suits […]. The performance manages to merge the documentarism and low-key drama that is close to an epic, with an engagement that is not direct; it's hidden in the choice of images and fragile scenes that make up the total of what a spectator should watch. And perhaps, with the help of the performance also see where and what his or her place and task are.
(Matej Bogataj, Sodobnost, April 2017)
Over the course of two hours, it can begin to feel intentionally testing, but it's always compelling and not without humour, far from it. […] This is a bleak piece but an impressive one in its scope and approach. We're all frogs in a cooking pot, but there's some small solace in that.
(Natasha Tripney, Exeunt Magazine, Združeno kraljestvo, March 27, 2017)
It's not underlined. It's not histrionic. It's not preachy, and nor is it condescending. You're just gradually told a lot of stories, and you know that these are things you already knew, but (if you're anything like me) you don't really like to think about and are pretty good at avoiding on a daily basis. As a statement on Western privilege it's immensely powerful […]. Overall The [Person] Who Watched the World is a remarkably effective piece about the modern world, about what "globalisation" really means.
(Andrew Haydon, Postcards form the Gods, blog, Združeno kraljestvo, March 26, 2017)
The performance The Man Who Watched the World bets on a simple narrative structure and is astonishingly convincing and consistent in it. It is rare in today's theatre to witness such a calm flow of narration. It's been a long while since we were last exposed to such minimalist, primal staging strategies, which – unbelievably – activate the entire perception apparatus more strongly than any kind scene spectacularity. […] A concept theatre of a strong charge and meaning.
(Melita Forstnerič Hajnšek, Večer, March 25, 2017)
Tackling the symbolism and the reality of political and intimate images is sensitive, yet also analytical. The problematisation of themes, such as the corrupt systems of the world corporations and the revolutionary protests against wars, is risky, it comes with the ingrained fear of moralising, the presumed pointlessness of an engaged warning. Yet the cyclical dynamics of humour, anxiety, guilt, hysteria and irony together with the thematic diversity on stage also shake our dispositions; as much as the performance is dead serious, it also keeps a healthy distance from its topics.
(Zala Dobovšek, Dnevnik, Jan. 21, 2017)
Guest performances
Week of Slovenian Drama, Kranj, Slovenia, 3 Apr 2018
Maribor Theatre Festival, Maribor, Slovenia, 28 Oct 2017
Awards
Borštnik award for acting to the entire cast
Borštnik award for directing to Žiga Divjak