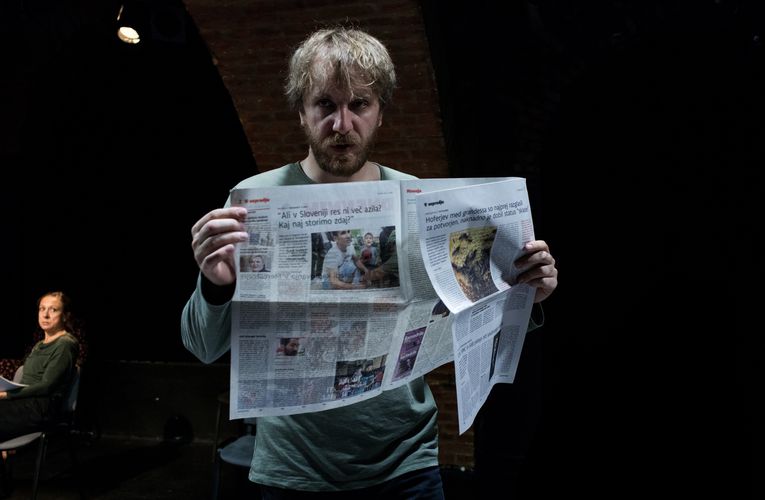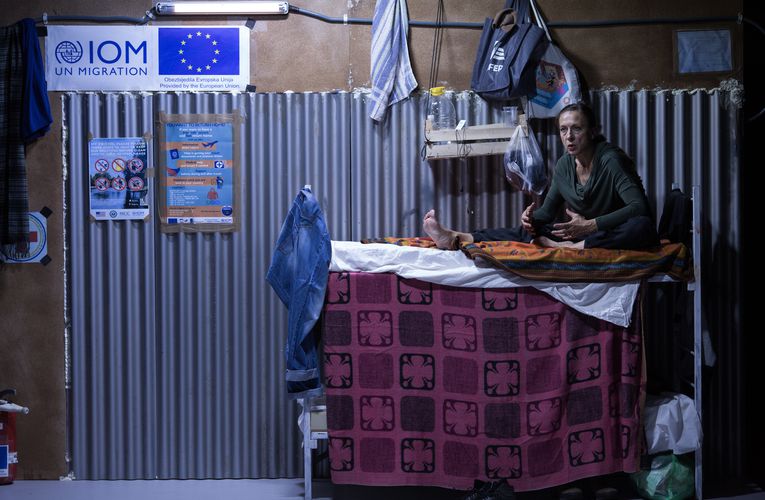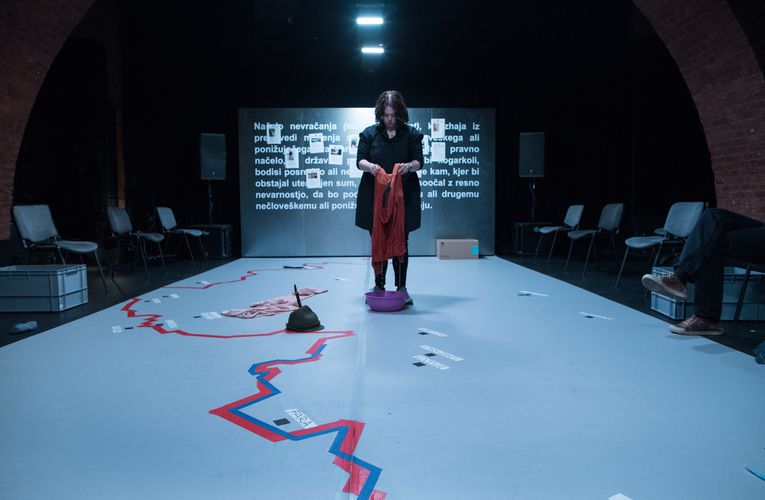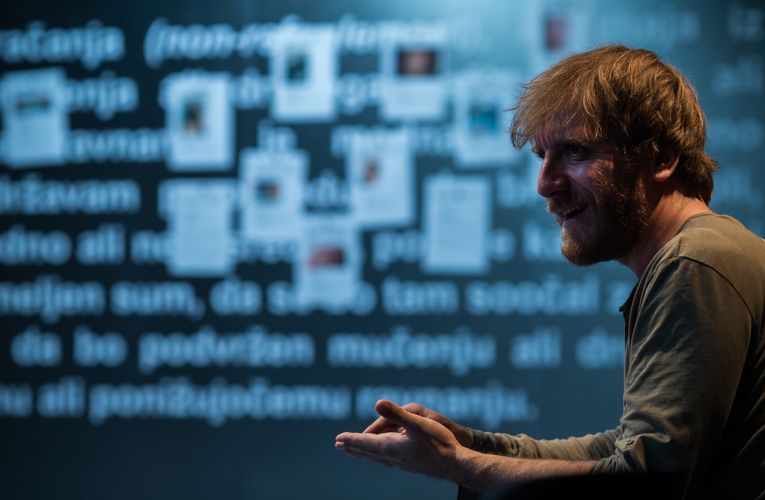 The Game
Directed by: Žiga Divjak
Co-production: Mladinsko Theatre and Maska Ljubljana
The text of the performance is based on testimonies from the Border Violence Monitoring Network database
Première: 10. 6. 2020
Cast
Sara Dirnbek

Matej Puc

On the recording: Hamza Aziz, Zaher Amini, Khalid Ali, Behnaz Aliesfahanipour
Credits
Research assistant: Maja Ava Žiberna
Assistants director: Ana Lorger, Nika Prusnik Kardum
Dramaturgical collaborator: Katarina Morano
Set design: Igor Vasiljev
Costume design: Tina Pavlović
Music; sound and video design: Blaž Gracar
Speech advisor: Mateja Dermelj
Translation of the recording: Barbara Skubic
Lighting design and stage manager: Igor Remeta
Production and stage manager: Tina Dobnik
Description
People who have walked across half of the world to escape wars, persecution, violence and crushing poverty, call the last stretch of their route, the stretch that takes them from Bosnia and Herzegovina to a safe destination in the European Union, the game.
The game has no rules, laws don't apply, the power of the police is limitless, the violence increasingly brutal, the dangers increasingly more dangerous, the possibilities smaller and smaller, and the destination further and further … Many try several times, even twenty or thirty times; it's a numbers game.
For many, the game is fatal. Available records show that around twenty people have thus far lost their lives on our borders.
The Game, a devised theatre project, will study the role and responsibility of Slovenia and its border policy for lives and fates of the people on the run.
Guest performances
Polis Teatro Festival, Ravenna, Italy, 7 May 2023
Palm Off Fest, Prague, Czech Republic, 22 October 2022
Bitef teatar, Belgrade, Serbia, 30 January 2022
Sarajevo Fest, Sarajevo, Bosnia and Hercegovina, 2 December 2021
Week of Slovenian Drama, Kranj, Slovenia, 7 November 2021
Festival Zoom, Rijeka, Croatia, 17 October 2021
Festival Perforacije, Zagreb, Croatia, 3 July 2021
Maribor Theatre Festival, Maribor, Slovenia, 24 June 2021
Trigger, Ljubljana, Slovenia, 31 August 2020
Awards
Duša Počkaj Award bestowed by ZDUS (SADA) to Vito Weis for his creations in the last two years, among them also for the project The Game
Special award of the jury for social sensitivity at the Week of Slovenian Drama festival (2021)
Borštnik Grand Prix for the Best Production (2021)
Borštnik award for directing to Žiga Divjak (2021)
Borštnik award for dramaturgy to Katarina Morano (2021)
Borštnik award for set design to Igor Vasiljev (2021)
Borštnik award for music and sound design to Blaž Gracar, also for Seven Days by the Ljubljana City Theatre (2021)
Borštnik awards for acting to Matej Puc, also for his role in Seven Days by the Ljubljana City Theatre (2021)
Borštnik award for young actress to Sara Dirnbek (2021)
Župančič award 2021, bestowed by the City of Ljubljana to Žiga Divjak for the projects realised in the last two years, among them for The Game
THANK YOU
Special thanks to Behnaz Aliesfahanipour, Hamza Aziz, Khalid Ali, Zaher Amini, Desmond, Reza, the Ahmmad family, Miha Turk, Anela Dedić, Nidžara Ahmetašević, Miha Blažič, Barbara Vodopivec, Uroš Škerl Kramberger, Kristina Božič, Aljaž Vrabec, Urša Regvar, Andraž Rožman, Dino Bauk, Faila Pašić Bišić, Milena Zajović Milka, François (MSF), Simon Campbell, Matej Povše, Dubravka Vranjac, Marko Pogačar, Tina Zorman, Ivan Šelih, Bruno Álvarez, Jernej Potočnik, Aco Todorović, Ivan Šikora, Info Kolpa, Are You Syrious, No Name Kitchen, Border Violence Monitoring Network, Legal-Informational Centre for NGOs, Human Rights Ombudsman of the Republic of Slovenia, Jože Goričar Central Social Sciences Library, ADRA Slovenia, and most of all to the residents of the Vič Asylum Centre, who shared their stories with us, and people in transit we met in Velika Kladuša and Bihać.