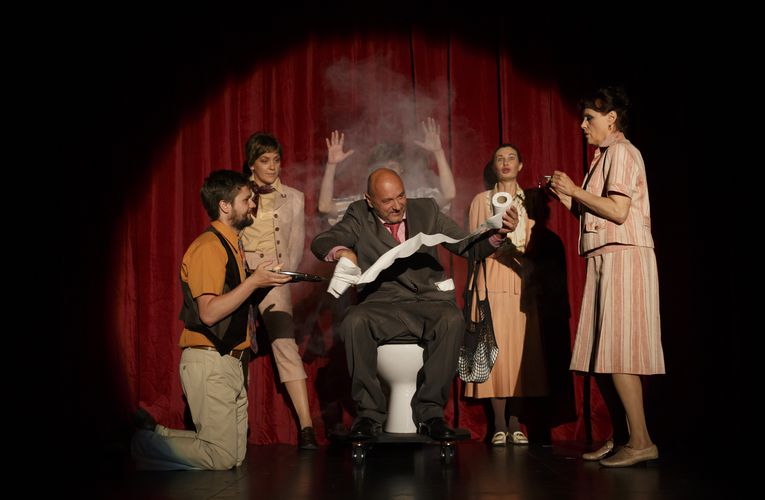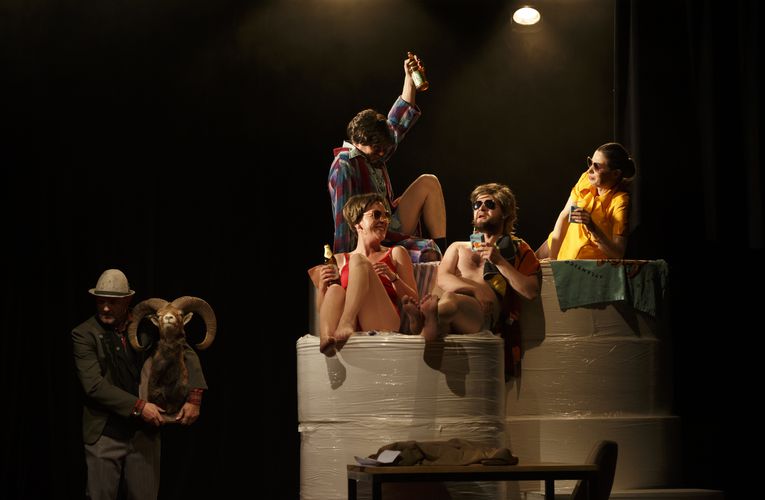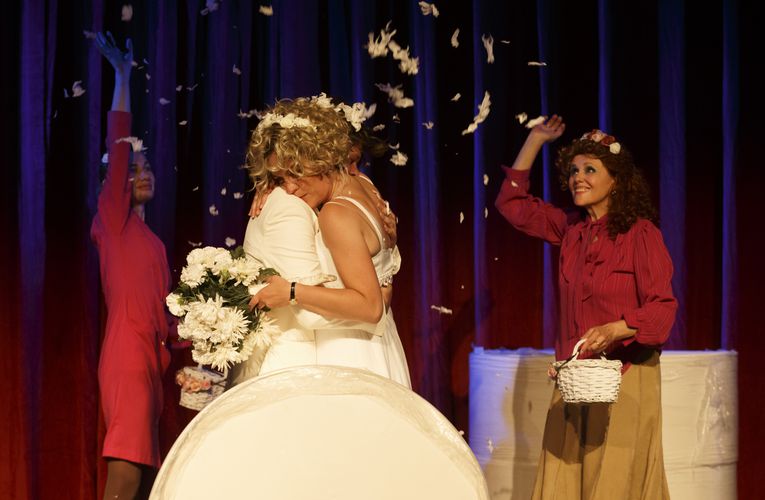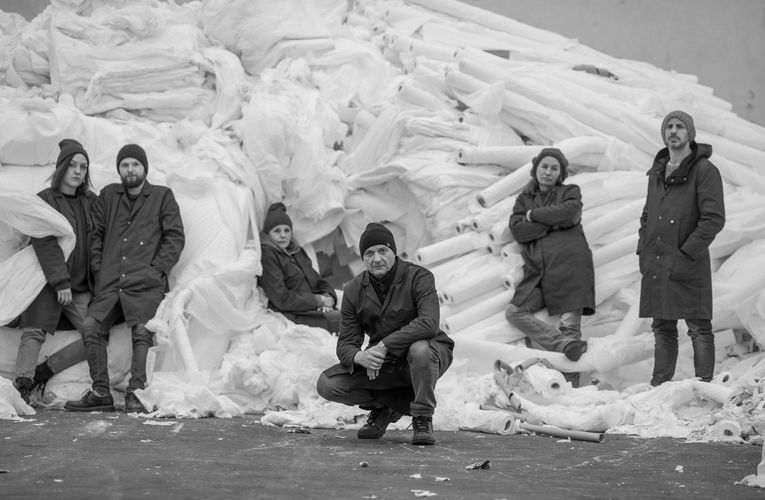 Paloma
Directed by: Brina Klampfer
Co-production: Mladinsko Theatre, UL AGRFT and KUD Krik
MA Theatre Directing program production
Première: 21. 6. 2020
Performances
Sunday / 26 Mar
/ 17:00 / SSG Trst
Cast
Director, Married Worker

Secretary, Worker

Iztok Drabik Jug

Comrade, Worker

Tamara Avguštin

Sales representative, Worker

Artist, Worker

Cleaning lady, Married Worker

Tadej Čaušević

Drums

Liam Hlede

Guitar

Marijan Sajovic

Bass guitar
Credits
Idea and concept: Brina Klampfer
Dramaturgy: Kaja Blazinšek
Language consultant: Metka Damjan
Choreography: Sebastjan Starič
Set design: Zala Privšek, Aleksander Vujović
Costume design: Sara Smrajc Žnidarčič
Lighting design: Liam Hlede
Music selection: Brina Klampfer
Playwriting consultant: Simona Semenič
Playwriting concept colaborator: Aleksander Vujović
Stage manager: Liam Hlede
The staged version of the text was devised in collaboration with the actors and the language consultant. In the performance we used Srečko Serčič's poem Hrepenenje ob reki (Longing by the River) and Miran Perko's (Delaware) song Plava država (Blue State; adapted by Iztok Drabik Jug).
Mentors: Tomislav Janežič, M.A., Prof.; Janez Janša, Assist. Prof. (theatre direction); Blaž Lukan, Ph.D., Assist. Prof. (dramaturgy); Jasna Vastl, M.A., Assoc. Prof. (set design)
Description
The production will be based on the story of the Paloma – Sladkogorska factory, which produced sanitary paper products for the entire former Yugoslavia, and which is the reason that a town was built around it in the first place. It will navigate between the three eras in the life of the town. The seventies, when people were full of hopes and dreams and geared towards a better future. The nineties, when the system changed and they started to lose work to new technologies. And the present, when the discourse about the future is gone, the blocks of flats are deserted and young people mostly leave. Intimate stories open an array of topics, linked to the wider socio-political questions: How did the political projects of constructing towns influence the lives of people? What is the fate of a little person who found himself within an environment of a monoculture? And how to deal with this today?
Guest performances
Days of Comedy, Celje, Slovenia, 19 March 2022
Awards
Noble Comedy award of the jury at the Festival Days of Comedy (2022)
Noble Comedian award at the Festival Days of Comedy 2022 to Tamara Avguštin for her roles of Sales representative and Worker in Paloma
Noble Comedian award at the Festival Days of Comedy 2022 to Stane Tomazin for his roles of Artist and Worker in Paloma
Sponsors
Pokroviteljica predstave je Paloma, higienski papirji, d. d.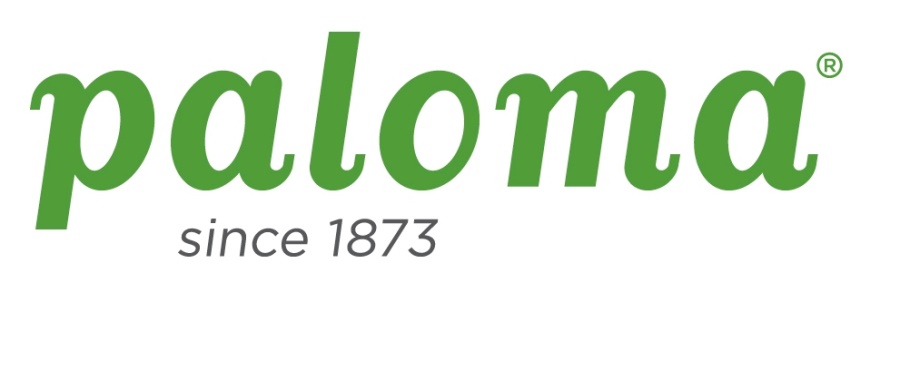 THANKS TO
Branka Nikl Klampfer, Matjaž Merčnik, Tone Partljič, Maks Kocbek, Miran Perko and Peter Rak.