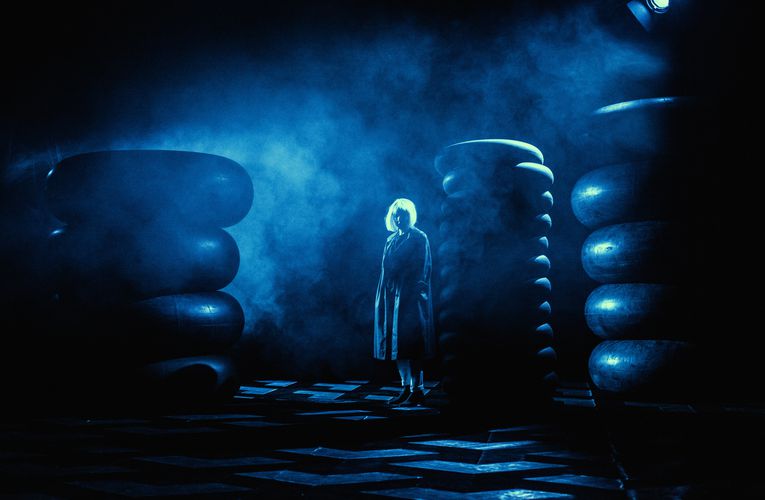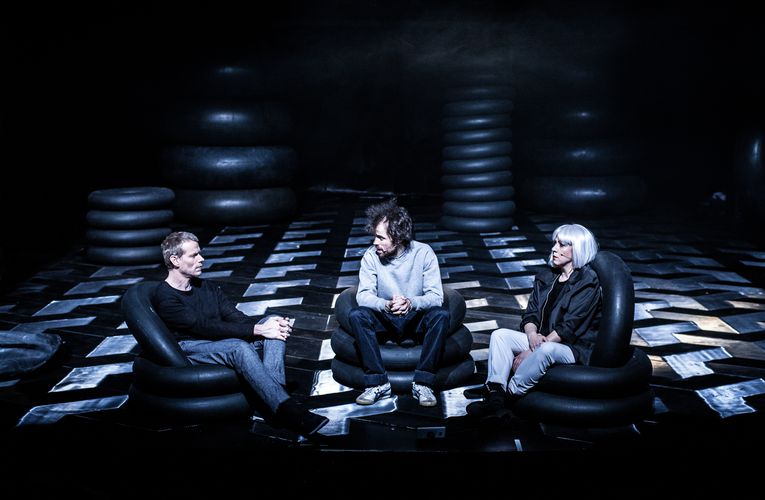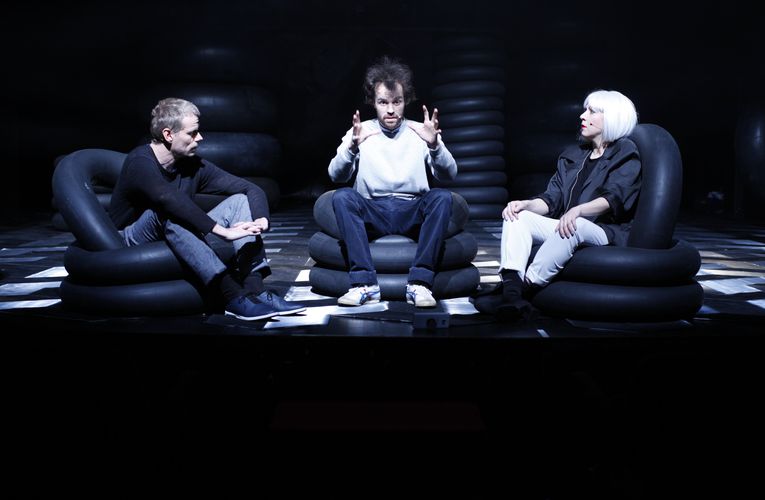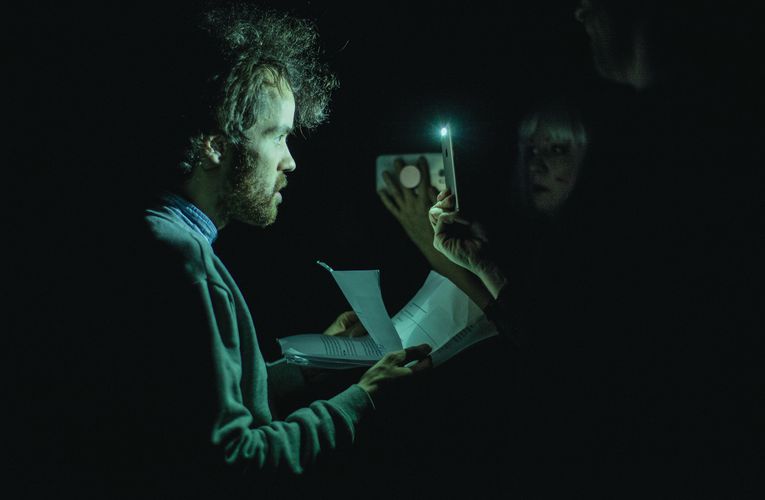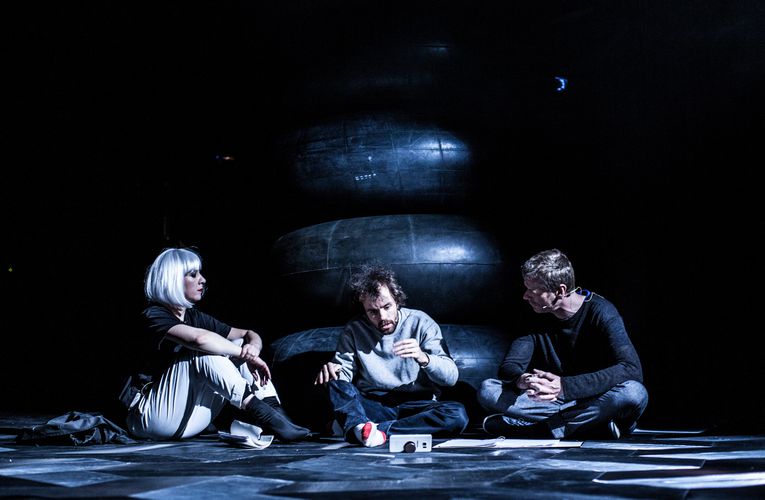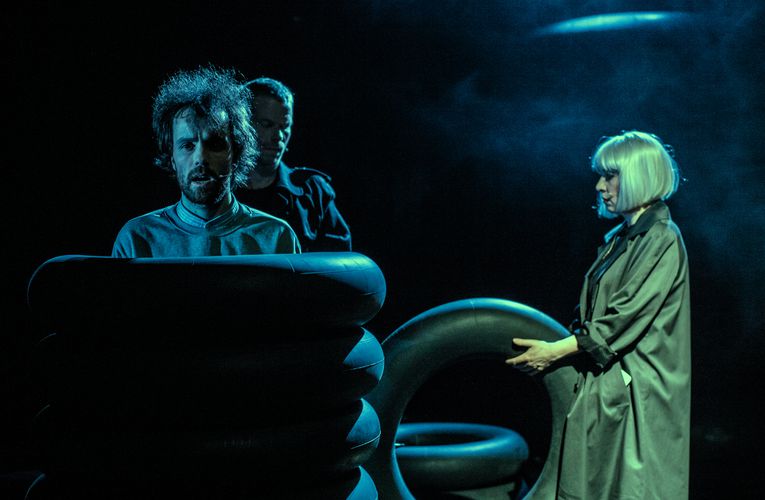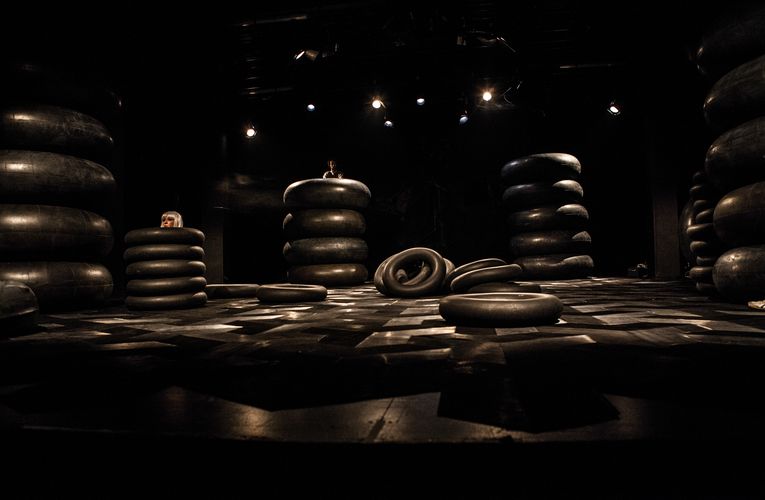 Metamorphoses 4°: Blackholes
Directed by: Bara Kolenc
Co-production: Mladinsko Theatre (Ljubljana), Schauspiel Dortmund, Kino Šiška Centre for Urban Culture (Ljubljana)
The final version of the text was created in collaboration with the entire team. Performed in English and Slovenian with surtitles.
Première: 10. 3. 2018
Credits
Dramaturgy: Goran Injac
Assistant director: Ana Laura Richter
Music and noise: Matevž Kolenc
Lighting design: Peter Pivar
Set design: Bara Kolenc, Barbara Stupica
Costume design: Ana Laura Richter, Slavica Janošević
Stage manager: Urša Červ
Translation into Slovene: Miklavž Komelj, Tina Malič
Translation into English: Aleksandra Žerjav
Language consultant (Slovene): Mateja Dermelj
Language consultant (spoken English): Aleksandra Žerjav
Language consultant (written English): Jana Renée Wilcoxen
Description
A black hole is a point of pure singularity. It is the impossible condition of the possibility of both, matter and anti-matter, it is a point of total destruction and a place of creation. Using a black hole as a metaphor, the project deals with the erosion of the Western tradition of humanism that has, throughout the history of imperialism, acquired aggressive characteristics, and whose collapse into itself we can currently observe in the re-structuring of the positions of power, the status of truth and of ethical values. Are we today still able to be humane? Are we able to look into another person's eyes, into the black hole of his pupils? Are we able to understand the point zero, the metaphysical point of the phenomenon of a black hole in order to transcend the stereotyping and prejudice? What if humanity is not an emphatic gaze into a fellow human's pupil of the eye, but a radical confrontation with the possibility that the eye of the other is merely a screen reflecting our own dreams, desires and fears? What if a black hole is not somewhere on the other side but rather a rupture within ourselves?
Awards
Metamorphoses 4°: Blackholes has been awarded the "Werkauftrag des Theatertreffen Stückemarkts 2016", funded by the Bundeszentrale für politische Bildung (bpb).
Thank you:
Simon Kardum, Erik Valenčič, Dan Adlešič, Michael Dittmar, Julia Danila and a certain someone