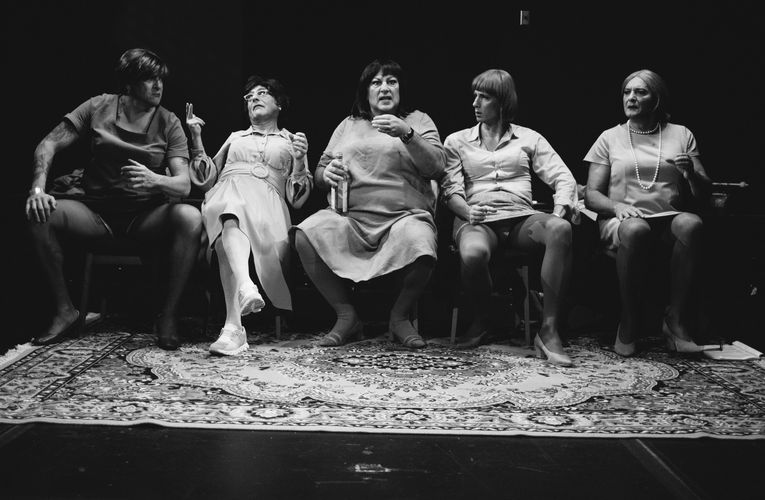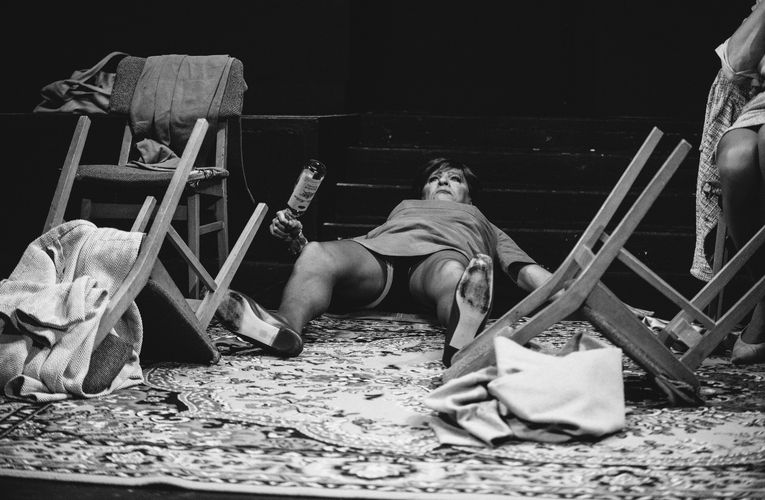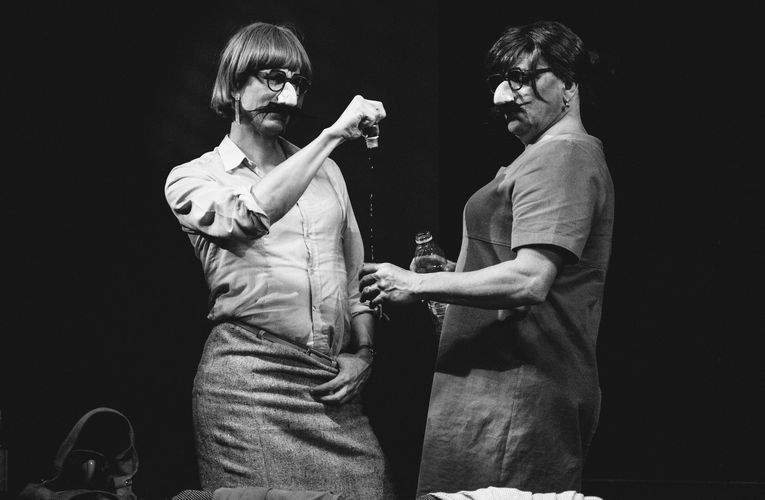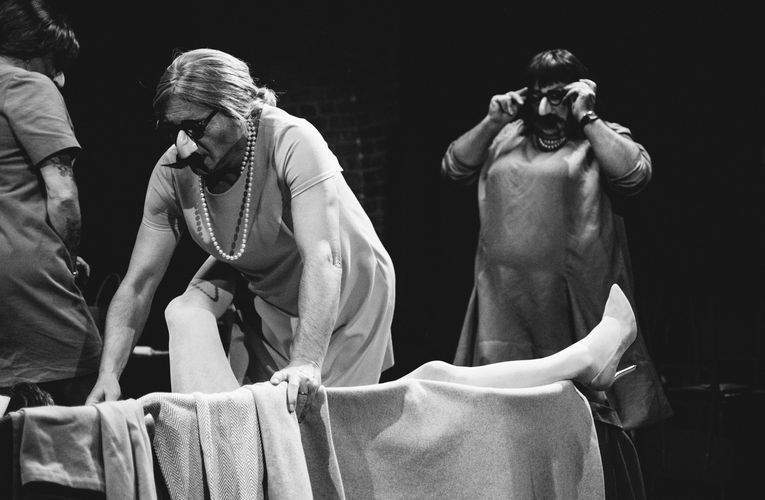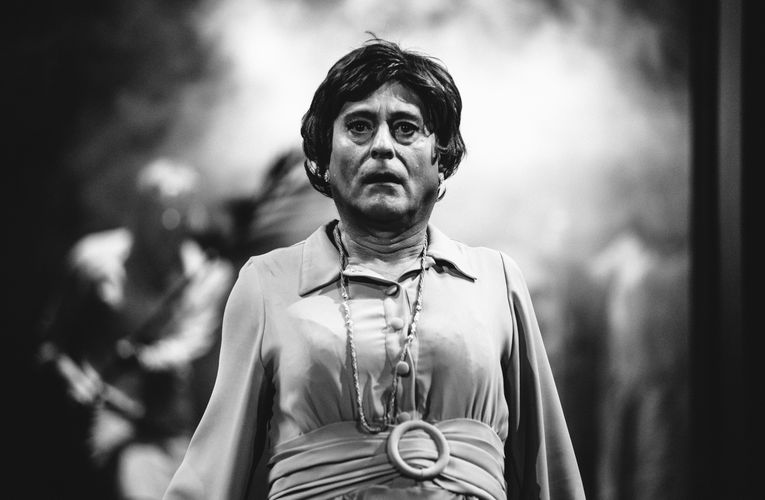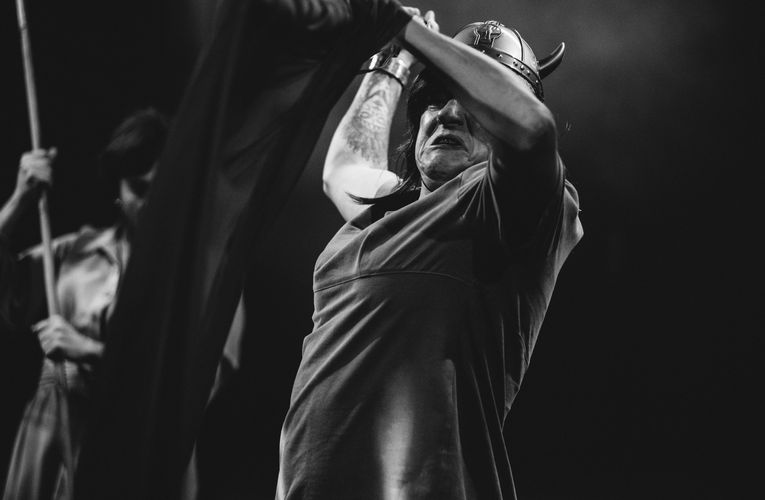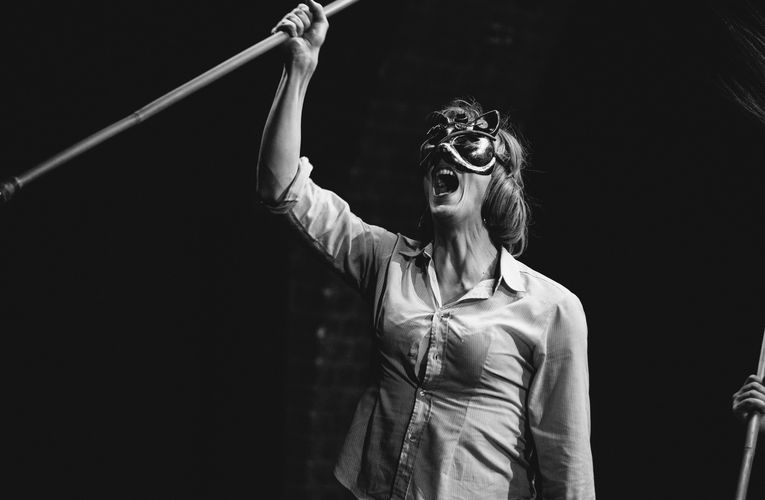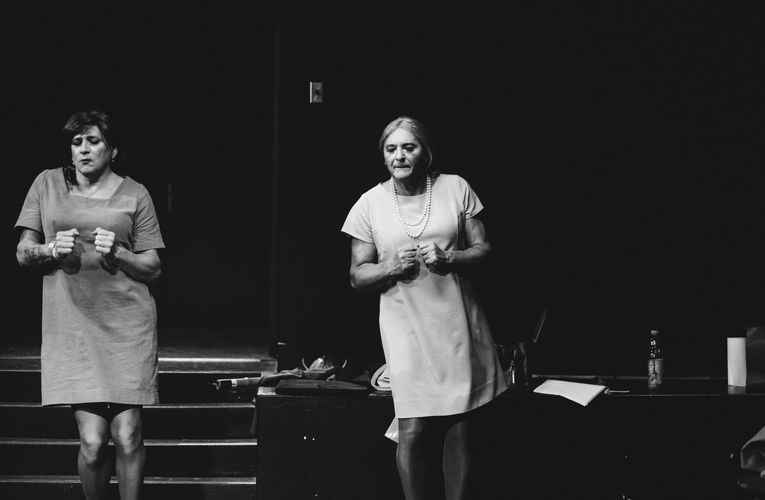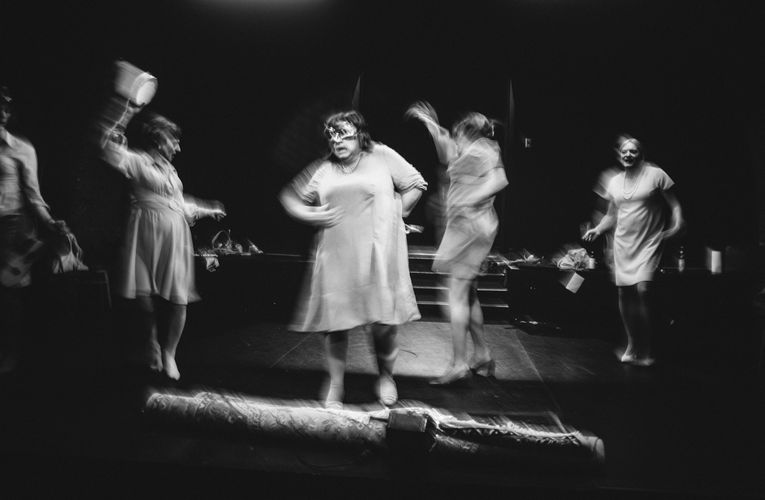 bang!
Directed by: Vito Taufer
A scene of explicit sexual violence is part of the perofrmance. Recommended age: 16+.
Première: 16. 12. 2022
Cast
doroteja

Jurij Drevenšek

agata

neža

julijana

Sebastjan Starič

felicija
Credits
Dramaturgy: Emil Filipčič
Set design: Urša Vidic
Costume design: Barbara Stupica
Choreography consultant: Sebastjan Starič
Language consultant: Mateja Dermelj
Music: kolektivno delo
Lighting design: Matjaž Brišar
Sound design: Silvo Zupančič
Make-up artist: Nathalie Horvat, Barbara Stupica
Assistant director: Mitja Lovše
Set designer assistant: Mojca Madon
Language consultant (assistant) and prompter: Tereza Gosar
Makeup artist assistant: Žana Štruc
Stage manager: Urša Červ
Description
Vito Taufer stages the new play bang! by Simona Semenič. The main characters are five women of different profiles and backgrounds, all amateur theatre artists, who are preparing a devised piece with a poetic, albeit somewhat mysterious title dívčí válka. The gender-inverted cast and the play within a play bring an additional layer of meaning to the production which focuses on questioning gender roles, sexism and friction between sexes, as well as support at times a disconcerting mix of humour and horror. And what is dívčí válka? It is 'a story from the eighth century' about 'young women who, instead of carving spoons and ladles from linden wood, carve spears and bows, / which they then use to massacre them / no mercy / just bang!'. Them? Who exactly?
In the media
Bang! is a very good comedy-drama, filled with horror. Women, each one of them with her own problems, gather for a rehearsal to stage a poetic devised piece Dívčí Válka. They are portrayed by great male actors, dressed as women. The women have problems with each other during rehearsal, as well as problems with their men. The production also includes rape, staged humorously, but in a way that leaves horror on your face. The spectator is forced to really think about what [the characters] say and do. Aren't our lives just like that? Hasn't this happened to someone we know? Director Vito Taufer led the team excellently. His directing includes not too many and not too few interventions. I also liked the music and the costumes. I particularly liked Uroš Maček in the role of Julijana, but they were all excellent. Do we women really know the world of men thoroughly? Are relationships between men and women really that complicated?
(Barbara Jozelj, Kralji ulice, julij 2023)
In bang! where five men play five women who play five cis- and heterosexual men, and one of them occasionally a woman, the concept of a play within a play, an otherwise well-known theatre phenomenon, goes beyond the dimensions of the performative and representation, beyond truth and its mask as the fundamental elements of theatre logic. In the performance the representations fall away; once the first mask falls off, another is hiding behind it, and so on to eternity. We fully adopt the logic of its play and internalise as a rule its thought that rules are variable, unfinished and constantly changing. This at the same time spontaneously liberates us from the permanent rational entrapment into the biological sex.
bang! is thus a performance of a play within a play, a performance within a performance, or better, a rehearsal within a production. The rehearsal is quite fragmented, as the five scenes keep getting interrupted by one woman or another wanting to comment on this or that, voice her reservation or chat about her daily life. Despite the fact that this is some kind of a jigsaw puzzle, the spectator is not confused, because the actors very efficiently shift from reality that is their rehearsal, and fiction that is the contents of the performance.
[The w]omen in bang! are staging a play in which they play their own partners; they play them in a way that during the play, as explained, forms of violence women encounter in partner relationships (but also in society in general) are revealed. Topics covered are alcoholism, physical violence, sexual violence, acts of surveillance and depersonification of women. What, then, happens when these contents are brought to the stage by male actors who play women who play men? The real caricature does not happen when (female) protagonists play their (male) partners, but one metafictional step before, when men play women. This swap of roles does not, in any way, carry the same weight as the process in which five women play boys (men) who are victims of violence: women in the history of theatre did not play men, while men, because of the exclusion of women from the public sphere, including theatre, played women. At the same time, we have, particularly in the Slovenian space, a long tradition of cross-dressing as a form of mass entertainment, usually weighted down with sexism. Therefore, when five actors play women who are victims of partner violence, something they're trying to express by preparing a theatre production, which is a safe space in the sense that art always (also) exists in a space of the fictive, the key question becomes how these women are represented.
(Anja Radaljac, Delo, Dec. 19, 2022)
Vito Taufer's theatre gestus when creating a spectacle, controls all the postmodern procedures of genre-mixing, travesty and burdens of identity, in the case of bang! even multi-fold ones, in double twists. He places sharp margins between them, just as the text dictates it, and, in the function of conveying the meaning, also the rhythm of the production. A merciless critique of the society is conveyed through the motifs of Slavic mythology of the segment in which women trick men, win and set up a temporary matriarchy. In the production, it is all put into the mouths and bodies of actresses of an amateur theatre group, in this case played by five actors who with the superb acting of constant travesty keep pulling the carpet from underneath the spectators' feet. The seemingly funny scenes, the caricatures, are painfully serious. They are followed by the alienation moments when we remember that we're in the theatre, and when we reconcile with that, we get poked in the back by the sentence about how comfortably and safely we're sitting. In the perfected production of bang! which in the end once more takes us to uncertainty and leaves us there, the roles of Julijana, Neža, Agata, Felicija and Doroteja were played by Uroš Maček, Ivo Godnič, Dario Varga, Sebastjan Starič and Jurij Drevenšek; among other contributing artists were: Barbara Stupica, Urša Vidic and Matjaž Brišar.
(Petra Tanko, Radio Slovenija, Dec. 17, 2022)