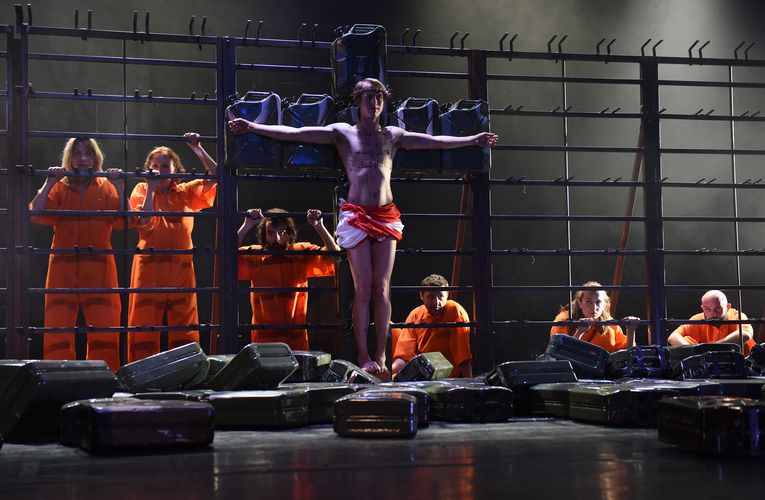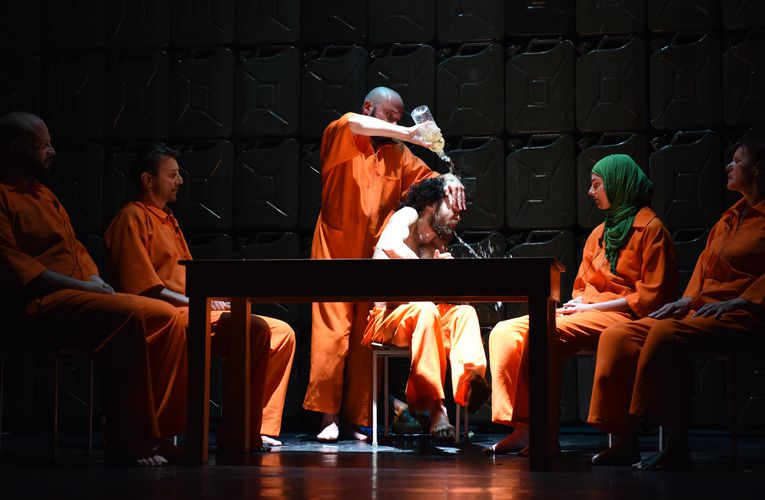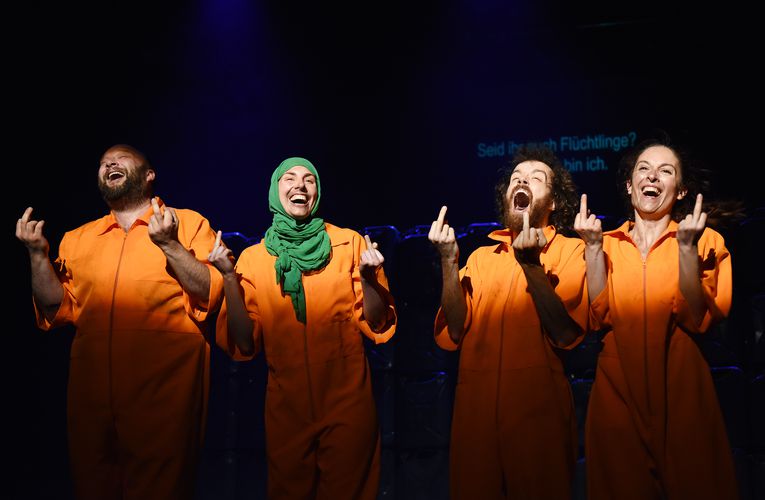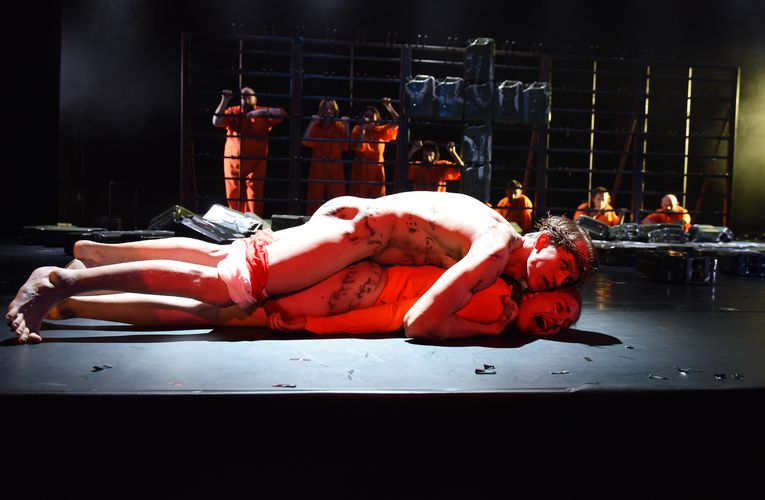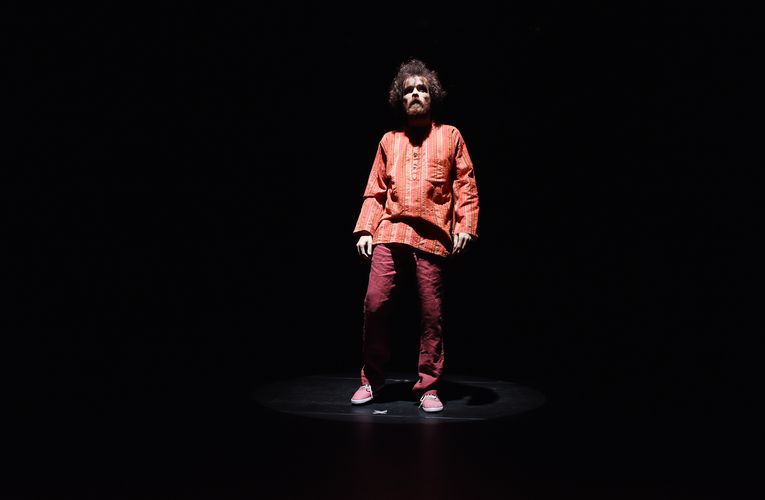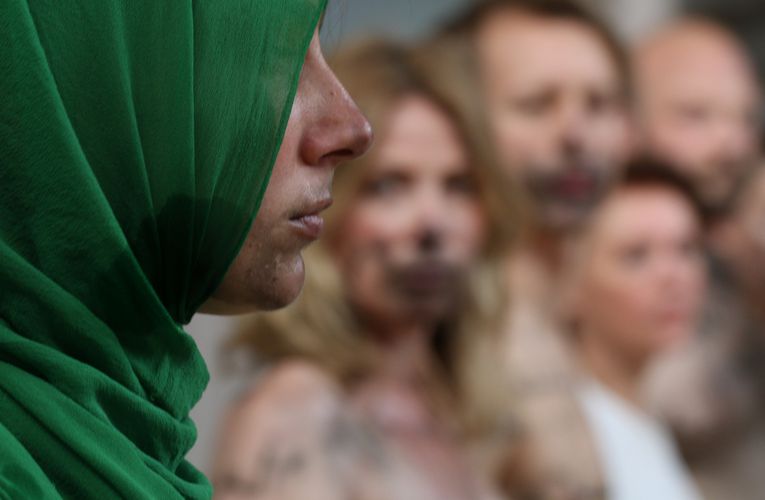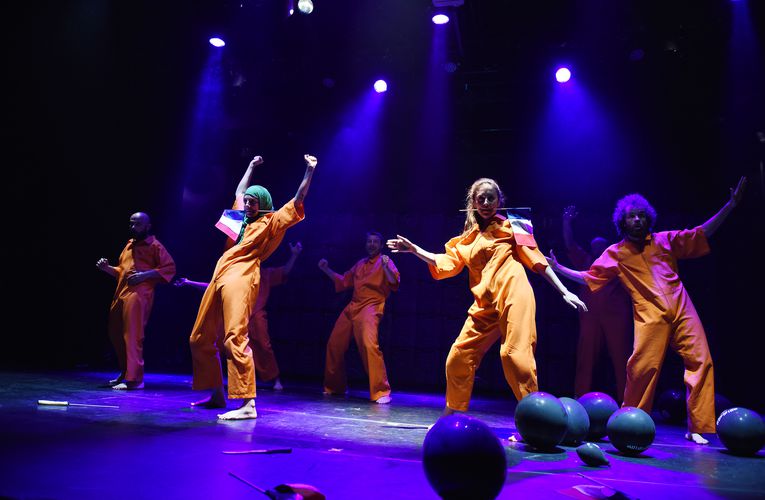 Our Violence and Your Violence
Directed by: Oliver Frljić
Co-production: HAU Hebbel am Ufer (Berlin), Wiener Festwochen (Vienna), Mladinsko Theatre (Ljubljana), Kunstfest Weimar (Weimar), Zürcher Theater Spektakel (Zürich), Croatian National Theatre Ivan pl. Zajc (Rijeka); funded by the German Federal Cultural Foundation; regional co-producer: MESS Sarajevo
Inspired by Peter Weiss' novel The Aesthetics of Resistance
Première: 13. 10. 2016 (Mladinsko), 29. 5. 2016 (Vienna)
Cast
Barbara Babačić

Barbara Babačić

Rasha Omran

Uroš Kaurin

Mathijs

Dean Krivačić

Abi Aziz

Jerko Marčić

Mihajlo Tamar

Nika Mišković

Noor Nazari

Amal Petrovič

Hadi al Zaidi

Rauf Asgarov
Credits
Dramaturgy: Marin Blažević
Set design: Igor Pauška
Costume and make-up design: Sandra Dekanić
Lighting design: Dalibor Fugošić
Adaptation of lighting design: David Cvelbar
Sound design: Silvo Zupančič
Music selection: Oliver Frljić
Artistic advice: Aenne Quiñones
Assistant director: Barbara Babačić
Production management: Hannes Frey
Description
The performance Our Violence and Your Violence observes the Europe which was – how naively – surprised by the refugee crisis, the Europe that unscrupulously forgets its colonial past while closing borders to those escaping the consequences of the European and American politics. As if the 20th century stubbornly did a single thing – fuelling the national narcissisms that taught one mass that it's better than others, while forgetting on purpose that ostracism is a form of violence. The 21st century continues to teach the same lessons, but uses the indispensable weapon: fear. And fear is the most reliable condition for hatred.
For this reason, the performance Our Violence and Your Violence will ask a couple of very unpleasant questions: Are we aware that our welfare depends on thousands of dead in the Middle East? Do we cry for the victims of terrorist attacks in Paris and Brussels the same way as we do those in Baghdad and Kabul? In which moment did we start to believe that we are masters of truth and that our God is mightier than others?
In the media
The superficial perception, for example in the responses from abroad, quickly met with resistance, indignation and self-defensive stance. [...] But detailed observation, listening and experiencing the atmospheric undulation in the performance speaks primarily about a great artistic work. How sophisticatedly does the director lead the spectator from scene to scene and thus weaves almost tangible links; he lets the spectator breathe, confuses him, angers, saddens, and at the same time imbues him with his mastery.
(Petra Tanko, Radio Slovenija, Oct. 14, 2016)
Our Violence and Your Violence doesn't pretend to know the right questions, but shares the painful awareness about the relativity of the current geopolitical constellations and ends with a question for the future.
Despair is the best in moments when it becomes poetry, and poetry can't be surpassed as a learning tool. And above all the provocation beyond the anticipated spectacular pigsty, in which we play the ascribed role of the exotic, non-dangerous – except for the own mind and culture.
(Svetlana Slapšak, Večer, V soboto, Oct. 22, 2016)
I tell you what, I'll just be honest: this is a treacherously difficult show to write about for an English-speaking audience. I really enjoyed watching it. And I quite enjoyed thinking about just how outraged some people might be if it ever played in England. […] So, yes, I found this show massively refreshing, because it wasn't a load of pious whinging. It was willing to offend all sorts of people, and it wasn't right wing, or misogynist, or racist, or anti-Semitic, etc. etc. at all. Though doubtless it would get called all sorts of things if it ever played in England. […] Our Violence and Your Violence isn't 'perfect in any particular sense of the word, but it's probably the most robust, antagonistic, fighty bit of left-wing theatre I've seen in an age. And perhaps the first this year that hasn't made me put my head in my hands at the idea of 'the left.
One of the best, most subtle Frljić's up till now, undoubtedly. Carefully measured and precisely gauged.
(Melita Forstnerič Hajnšek, Večer, Nov. 2, 2016)
So Frljić is now disgusting; Frljić is insolent; Frljić is kitschy; Frljić is insipid ... Of course, Frljić is none of this, and when he is, he is so on purpose. But above all the key is to watch Our Violence and Your Violence as the next act in Frljić's opus, like a sort of a new learning peace, because we can compare his mission to Brecht's. And if some want to understand the slogan on the wall built of gasoline canisters DAS PETROLEUM STRÄUBT SICH GEGEN DIE FÜNF AKTE (The oil resists the five acts) as Frljić's attempt to apologise and excuse his failure in forming a coherent dramaturgy, they've missed the point. As it happens, violence is a theme that cannot be put into five acts or any other coherent form. Just think of the rapid and chaotic change of the situation in the Middle East; can you put the tragedy of Aleppo, and the latest one in Mosul into five acts? Of course not. And actually, the question of oil is behind all this. Yes, oil can truly flow across borders; even hostile countries (usually) let it pass through their territory to their adversaries. People don't have such luck. And yes, this is what Oliver Frljić is talking about.
Guest performances
Podgoričko kulturno ljeto, Podgorica, Montenegro, 7 July 2019
Festival Barski ljetopis, Bar, Montenegro, 6 July 2019
Festival Divadelní svět Brno, Brno, Czech Republic, 26 May 2018
Festival Iberoamericano de Teatro de Bogotá, Bogotá, Colombia, 27 – 29 Mar 2018
ZonaK (Focus Now), Milano, Italy, 18 & 19 Nov 2017
MOT, Skopje, Macedonia, 28 Sep 2017
Maribor Theatre Festival, Maribor, Slovenia, 20 Oct 2017
KRASS Kultur Crash Festival (Kampnagel), Hamburg, Germany, 28 & 29 Apr 2017
Marulić Days, Split, Croatia, 24 Apr 2017
CNT Ivan pl. Zajc, Rijeka, Croatia, from November 2016 on
Desiré Central Station, Subotica, Serbia, 19 Nov 2016
Temps d'Image, Cluj, Romania, 11 Nov 2016
MESS Sarajevo, Bosnia and Herzegovina, 9 Oct 2016
HAU Hebbel am Ufer, Berlin, Germany, 27–30 Sep 2016
Festival of New Dramaturgies, Bydgoszcz, Poland, 25 Sep 2016
Kunstfest Weimar, Weimar, Germany, 20 & 21 Aug 2016
Wiener Festwochen, Vienna, Austria, 29 May – 1 Jun 2016
Awards
Grand Prix for best performance at the Festival Barski ljetopis in Montenegro, 2019
The "Brave New World" award bestowed by the Dani newspaper at the MESS Sarajevo festival 2016
Sever Award to Blaž Šef, also for his creation in Our Violence and Your Violence