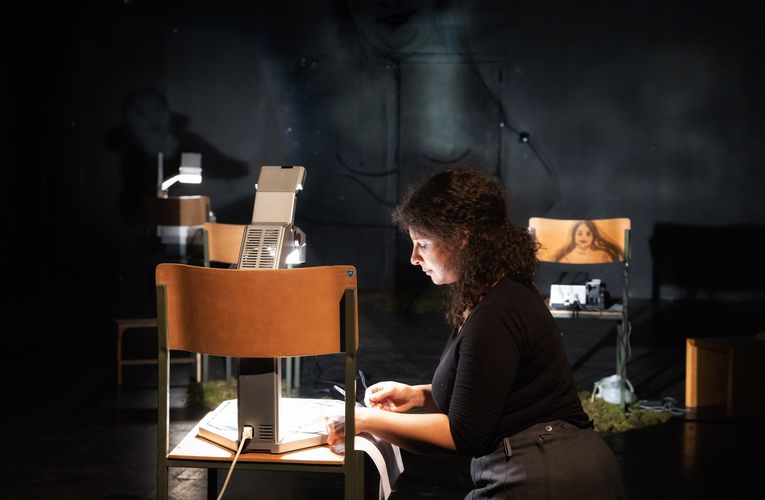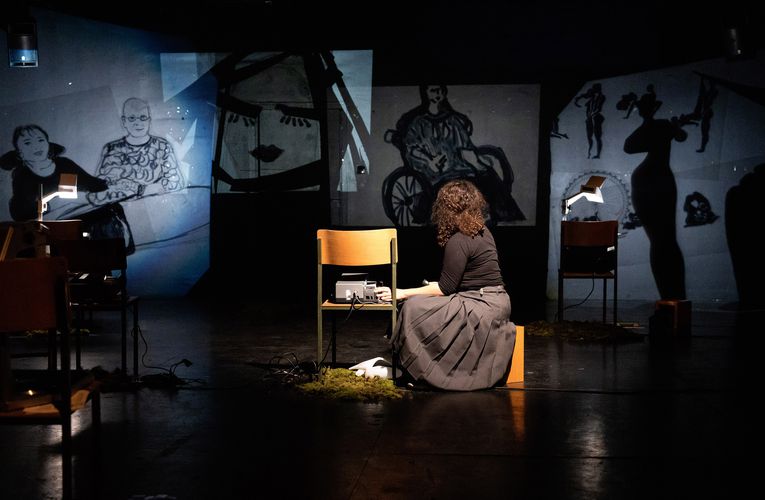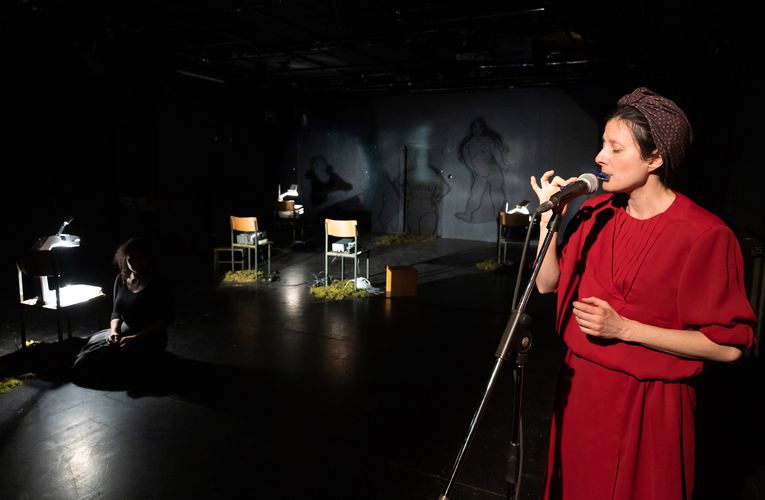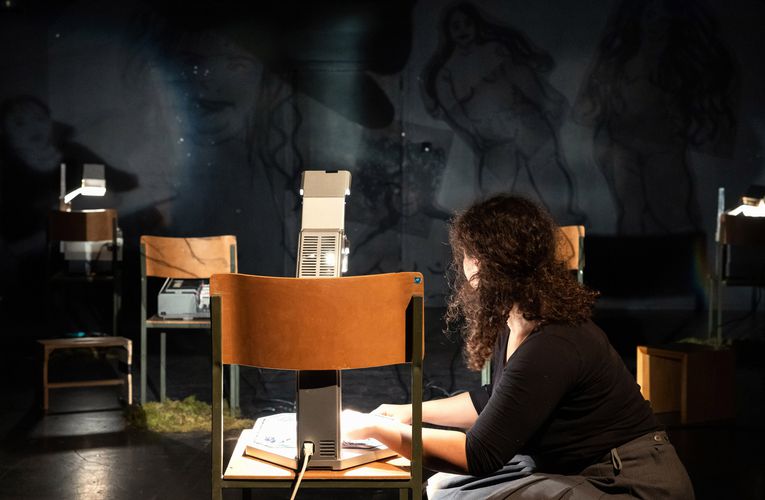 Sex Education II: Ability
Directed by: Tjaša Črnigoj
Co-production: Mladinsko Theatre, Maska Ljubljana and City of Women
Première: 2. 3. 2023
Performances
Friday / 7 Apr
/ 18:00 / The New Post Office /
Buy ticket
Cast
Lina Akif

Performer

Tea Vidmar

Sound Perfromer
Credits
Music: Tea Vidmar
Visuals and Costume design: Tijana Todorović
Set design: Barbara Kapelj
Nuri's voice: Katarina Stegnar
Editing audio tapes and sound design: Jure Vlahovič
Lighting design: Tjaša Črnigoj, Igor Remeta, Manca Vukelič, Barbara Kapelj
Translation: Tina Malič
Production management: Tina Dobnik
Assistant: Demijan Pintarič
Martina Piskač (together with Uroš Sede), Nura, Suzana, Tjaša and Linda shared their experiences.

Included are statements by expert-interviewees (Elena Pečarič, Jernej Hazimali and Steven De Weirdt) and excerpts from Elena Pečarič's essay "So Beautiful, Yet Disabled", published in the journal Social Work, Volume 44, Issue 1/2.

The project is part of a series of lecture-performances in which also Nika Rozman, Sendi Bakotić and Vanda Velagić participate as authors and performers, and Alja Lobnik, PhD Gabrijela Simetinger and PhD Maja Vehar as expert collaborators.
Description
Ability is based on stories of four women about their sexual coming-of-age, their relationship to their bodies, their sexuality and their relationships. What the four women have in common is that they live with a disability and are thus, as Elena Pečarič says in her essay "So beautiful, yet disabled", faced with double discrimination, as persons with a disability and as women. In Slovenia, the sexuality of people with disabilities is overlooked at a systemic level and sex education is particularly lacking in this area, while social care workers have discretion as to whether they help women with disabilities with sexual practice, as this is not in their job description.

"In such a stifling atmosphere, a woman with disability literally has to fight windmills to express her sexuality, femininity, well-being or satisfaction with her appearance, herself and her body. [...] Why is it so difficult to understand and accept that a woman with disability can be happy with herself or her body as it is, to feel good, to feel beautiful, attractive or sexy." (Elena Pečarič: So beautiful, yet disabled)
In the media
On the stage of The New Post Office we are greeted by graphoscopes placed on small patches of moss [...]. Lina Akif performs on stage this time, opening the story with a personal experience. She shows the audience pictures from her childhood, in which she is dressed up as a masquerade and celebrating her birthday with some children with disabilities. Akif explains that she never saw these people in the picture again, and with this comment reminds us of how radically separate our worlds and theirs are. The performance builds a bridge between two worlds that are the result of systemic segregation. The frame narrative is based on the stories of four women living with disabilities, and the sound recordings of these real people's testimonies are accompanied by graphic images that Lina Akif changes on a graphoscope. They share with us their experiences as persons who no longer stand out in their shortcomings and who are gradually perceived no longer as persons with a shortcoming, but as wholes, because their shortcoming is, after all, always expressed in relation to our perception of normative wholeness and "normality". By describing their own feelings about their bodies, their relationship to sexuality, their preferences, fantasies and pleasure, the boundaries blur, because it is through their stories that the audience connects with them, and sexuality becomes a shared field of experience. With an intimate atmosphere, also created by the music of Tea Vidmar, the otherwise difficult and traumatic experiences of women are seasoned with a touch of humour, casualness and sparkle. [...] The handicapped body of women, twice segregated and oppressed by virtue of its countenance, acquires its voice and presence precisely by coming to the stage of The New Post Office, and thus successfully educates the audience into people who will be much more attentive to the marginalised position of these people in their everyday lives after the end of the performance. [...] With the third part of Sex Education II, Tjaša Črnigoj thus enters intersectional feminism, which looks at oppressed women and gender non-conforming identities through prisms that are not focused solely on gender identity, but perceive them at the intersection of other experiences and the social contexts from which they originate.
Sponsors
Testni poligon: Reparativne prakse za nov kulturni ekosistem je projekt, ki ga s podporo EU programa Kreativna Evropa razvijajo in izvajajo Kurziv – Platforma za vprašnja kulture, medijev in družbe, Združenje Stanisława Brzozowskega/Krytyka Polityczna in Maska Ljubljana. / The project Testing Ground: Reparative Practices for New Cultural Ecosystem is conceived and carried out by Kurziv – Platformfor Matters of Culture, Media and Society, Stanisław Brzozowski Association / Krytyka Polityczna and Maska Ljubljana, with the support of the EU programme Creative Europe.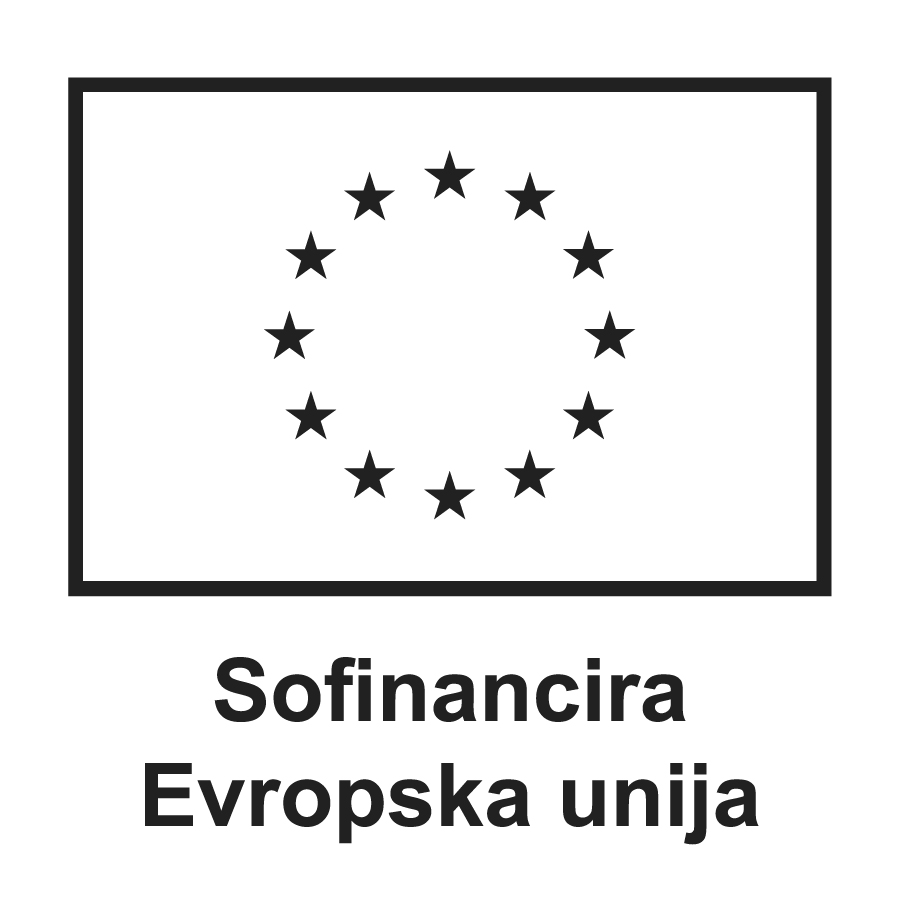 THANKS
Lana Akif, Boštjan Bebar, Sendi Bakotić, Urška Brodar, Tina Dobnik, Jernej Hazimali, Urška Henigman, Interdisciplinary research team About feminist pleasure, Alja Lobnik, Tina Malič, Jaka Sotlar, Tibor Mihelič Syed, Borut Laznik, Borut Opetnik, Gabriele Fuso, Klara Otorepec, Elena Pečarič, The Sisterhood of the Proud Dolphin, Žiga Sedevčič, Katarina Stegnar, SVŠGUGL, Vanda Velagić, Steven De Weirdt