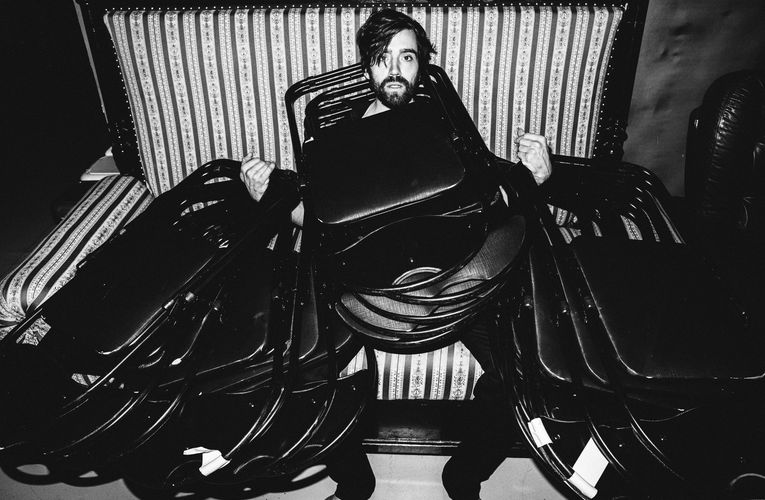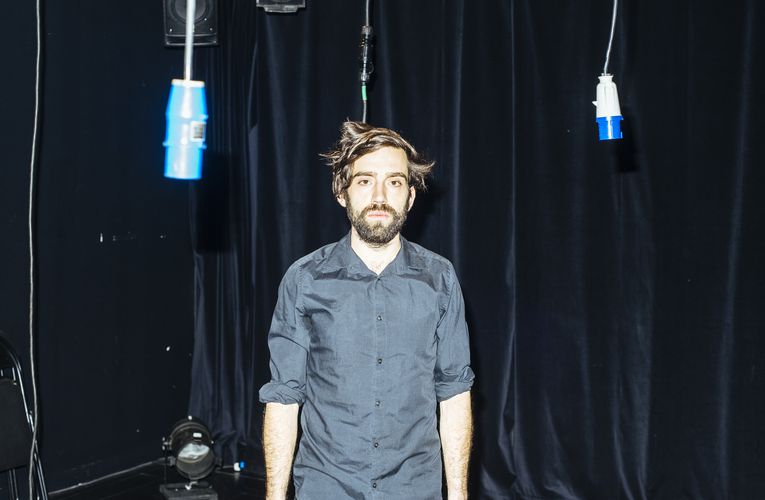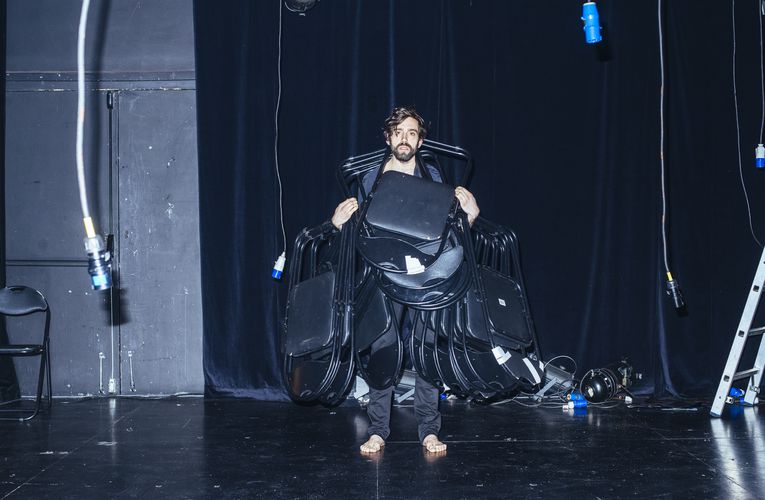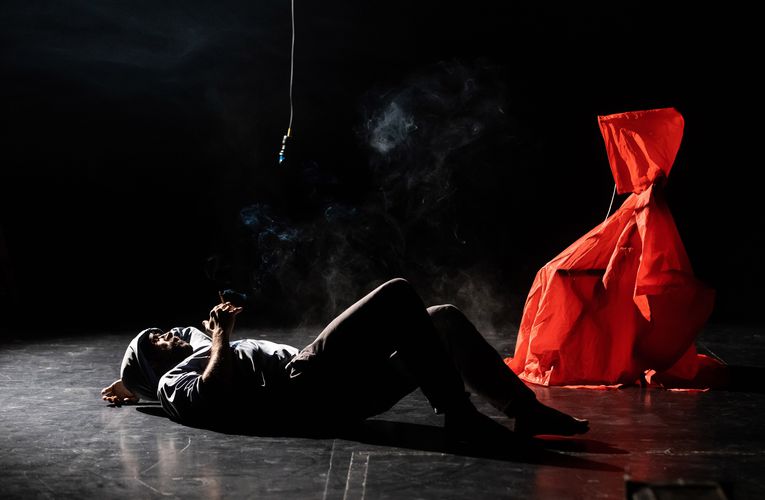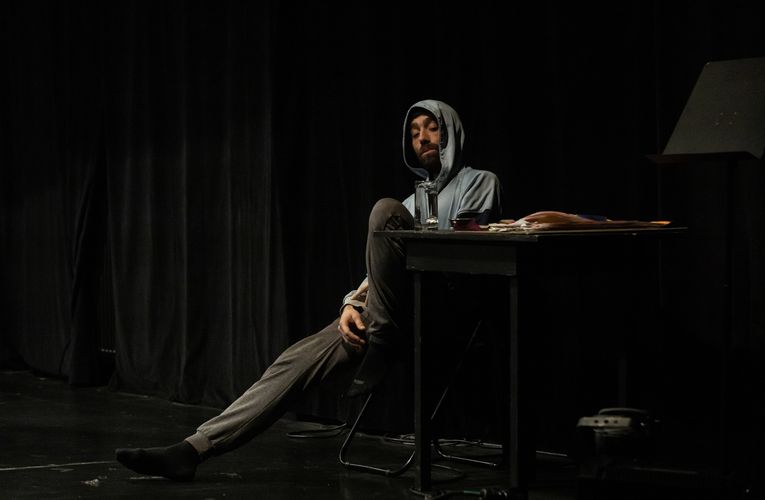 Bad Company
Directed by: Vito Weis
Co-production: The New Post Office (Mladinsko Theatre and Maska Ljubljana), Moment
Première: 28. 12. 2020 (Mladinsko), 20. 8. 2021 (GT22)
Performances
Saturday / 23 Oct
/ 20:00 / The New Post Office /
Buy ticket
Friday / 29 Oct
/ 20:00 / Belgrade
Credits
Direction consultant: Žiga Divjak
Movement consultant: Nina Pertot Weis
Music and sound design consultant: Tomaž Grom
Dramaturgy consultants and concept development assistants: Žiga Divjak, Nina Pertot Weis, Tomaž Grom
Lighting design: Vito Weis, Igor Remeta
Set and costume design: Vito Weis
Technical manager: Igor Remeta
Producers: Tina Dobnik (Nova pošta), Nika Bezeljak (Moment)
Description
Vito Weis, an actor widely hailed for his stage presence and uncompromising delivery, strikes again with his first original solo piece. Early on, its development process was cut short by the pandemic, which shattered the initial ideas and premises, along with the author's creative calm (or restlessness). While the pandemic shook the very principles of human activity, including artistic creativity, to their foundations, it also opened up new, uncharted horizons and an opportunity for new considerations. With the need to isolate came a strong sense of psychological insecurity and ... new company. We were suddenly left on our own—alone with ourselves.
Bad Company is a result of this—a distillate of the spirit of the age in desperate need of an audience. A distillate stripped of words and nearly all stage illusions that is nevertheless a full-blooded theatre experience. A distillate that refuses to be intrusive, instead offering a "multicoloured' juxtaposition of stage images. In them, the author tackles many pressing issues of the day and age that we live in, while accompanied by music from another era—the time of a different epidemic.
In the media
One could say that Bad Company is one hell of a love story. Dedication, patience, sacrifice, commitment, exploration, small victories, big efforts... All these motifs are woven into it, and yet the production is not about two people in love; it is about love for theatre as a platform that, from the actor's point of view, doesn't exist without an audience. […] Vito Weis effectively plays with scenic elements, using theatrical illusion to transform them into an auditorium and a crowd, his audience, finding props in an empty theatre hall. […] Weis invests so much effort into his on-stage illusion that he ultimately manages to dance in front of an imaginary audience. In the epilogue, in a performative twist, he returns to the realm of love, sacrifice and persistence. And the real spectator feels reassured, for the scene demonstrates that the memory of theatre as the foundation for the creative process has been left behind; that theatre remains alive.
There is nothing but a space, a space of theatre – and the items that belong to it just like [the actor]. He can act or play using only himself and these items; the entire "performative potential" is already there. As it turns out in the next hour or so, there is plenty of it to explore. Theatre is a place with its own reality where the relations between its "constituent elements" are constantly being rearranged, with meanings appearing and disappearing. Where everything is temporary but not perishable. This is precisely why episodes […] gradually start clumping together into a whole, forming an audio-visual narrative about the very heart of the creative process. In an unadorned language specific only to theatre, Weis speaks up about everything that precedes (and underlies) a production, be it creative anxiety, moments of idleness, the constant testing of options and checking what has already been created, doubts about the meaning of it all, the often conflicting dispositions, ideas and solutions, the weight of expectations and desires. Or simply the sound of the actor's heartbeat.
(Gregor Butala, Dnevnik, May 15, 2021)
In a sensitive, unaggressive way, Bad Company manages to address a tired issue that has been addressed, seen or heard about so many times before: creation during a health and cultural crisis. Showing the bare state of things, the production is comprehensive and impartial in its analysis. It avoids falling into episodic sameness; rather than preach, ideologise or politicise, it remains critical in its minimalist perfection. In a format that is open to interpretation, it sensitises the spectator and encourages reflection so they can form their own opinion.
Although the current social context of the pandemic is implied in Bad Company – investing the production, in a way, in the present moment – Weis' work manages to rise above this. Reflections on the ontology of theatre, especially the question of how a piece of theatre exists and what it necessitates, are not conditional on the current situation. It coexists alongside, but also beyond it. […] Besides this meditative and almost philosophical level, there's also, as implied above, a more intimate and perhaps more socially engaged aspect to Bad Company, one that is fundamentally affected by absence: the absence of an audience, the absence of other cast and crew, the absence of the theatre as a place of exchange and a specific form of (co)existence. Despite this absence, which feels unbearable at times, the production implies that this is not the absence of art and/or creation. As soon as he finds himself alone, Weis creates a very compelling work, giving space – and voice (very literally in the scenes with a microphone) – to the essential elements of theatre (space, light, sound and props), coupling with them and creating a reflective, poetic piece of theatre that is simultaneously a play, improvisation and trial, which can (though this may not be its intention) even make sense on its own, with Weis but disengaged from an audience.
SPECIAL THANKS TO
Kajetan and Zarja Pertot Weis